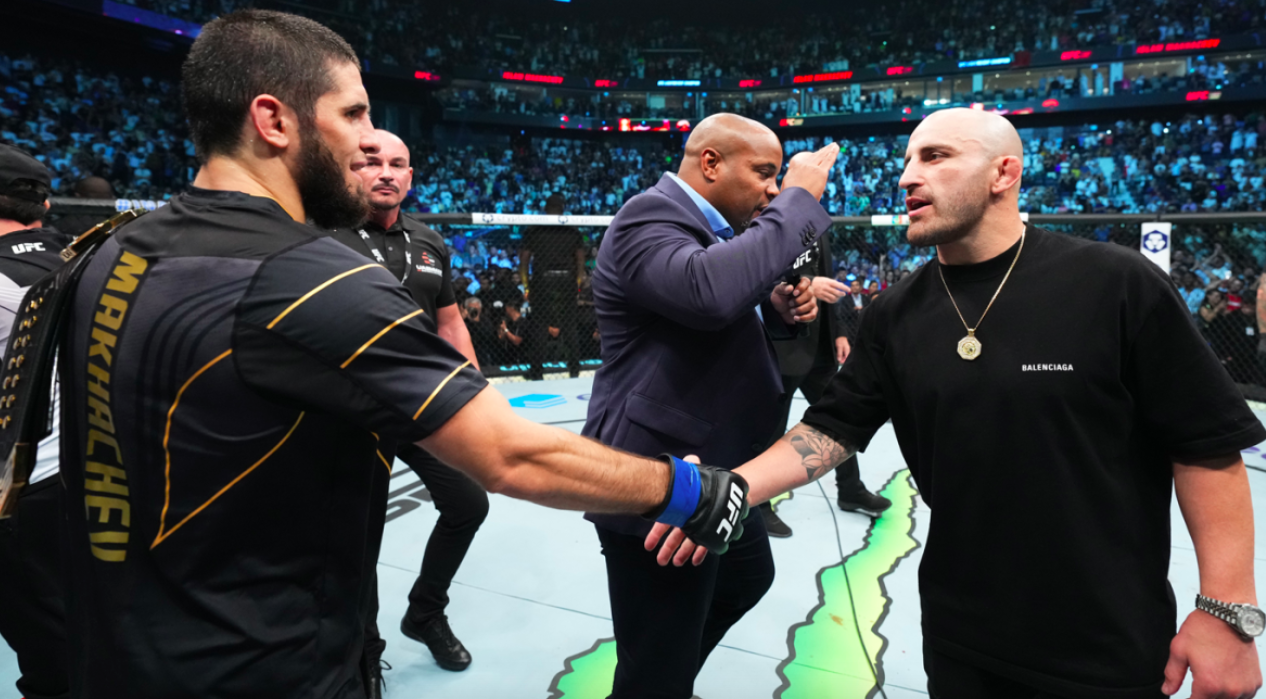 Alexander Volkanovski says that if he ends up underneath Islam Makhachev in their world title fight next year, it'll be no big deal.
UFC featherweight champion Volkanovski will attempt to become the latest member of the UFC's double-champ club at UFC 284 in Perth, Australia on February 11 when he tangles with 155-pound champ Makhachev — a fighter who has scythed through his lightweight peers in recent years.
But Volkanovski, undefeated in the UFC at 145-pounds, is no easy task and says that he won't lose his composure if he finds himself taken down by Makhachev.
"A lot of people just prevent getting there [on the ground]," Volkanovski told Michael Bisping on his Believe You Me podcast, via MMA Fighting.
"I'm like, if the fight doesn't go there, that's a bonus, but I need to be prepared and ready for if it does go there because there's a good chance. There's a good chance he might get the takedown, he might get a nice trip, whatever it is. I won't be surprised if he doesn't, I'm working everything right now.
"But if it does, I guarantee you this; I'm gonna be composed, I'm gonna be calm and I'm gonna be fighting my ass off to get back to my feet and I will not panic. You won't see me lose composure, nothing like that because the amount of hours I'm doing, that's why I'm so calm. Preparation is everything, it's just that a lot of people don't prepare how they should."
after first 15 helpless seconds on the ground, I guarantee you will panic https://t.co/zLsO4v3OE5

— Makhachev Islam (@MAKHACHEVMMA) December 23, 2022
Fights fans will remember the two submissions he escaped from Brian Ortega in their bout for the featherweight strap, both of which looked close to ending Volkanovski's reign as champion — but the Australian fighter added that it takes a certain type of mindset to retain your senses in those types of situations.
"A lot of people are like, 'Ah, I won't get there.' But what if you do? Be ready. Except for me. We know what he wants to do. So, even if he does get me there, I'm gonna be more than prepared, more than ready.
"I think going for this champ-champ and taking out someone like Islam is really what people are going to sort of remember. Again, a lot of people think he's unstoppable right now, but I'm gonna show you that he is stoppable. I can't wait to go out there and do my thing."
Makhachev, though, isn't quite sure about Volkanovski's hypothesis.
"After first 15 helpless seconds on the ground, I guarantee you will panic," he wrote on Twitter.
Comments
comments