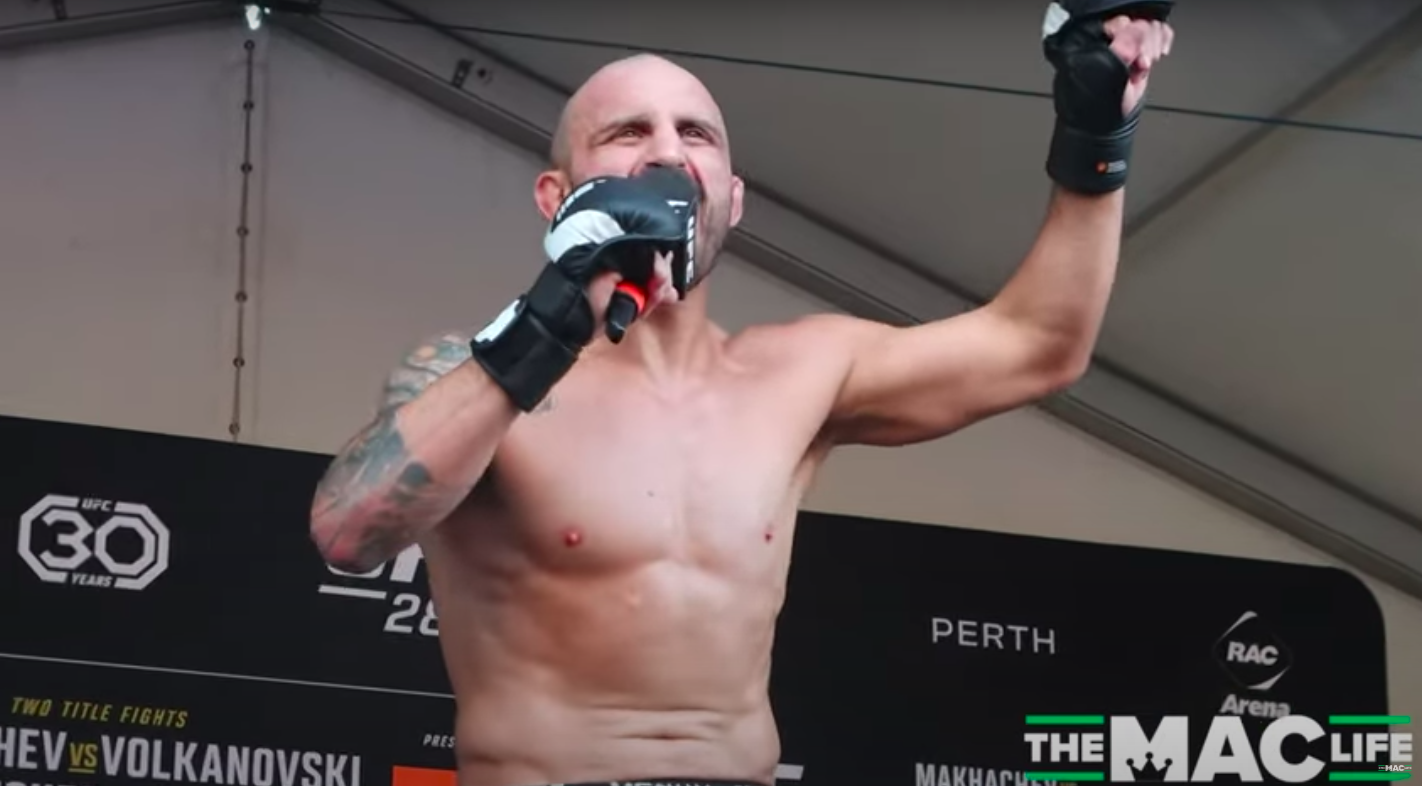 The term 'rolling off the couch' means different things to different people.
For Alexander Volkanovski, a fighter who famously has a near bottomless gas tank, he says that the short notice fight against Islam Makhachev — and his lack of preparation for it — is a blessing in disguise. The Australian UFC featherweight champion will step in for Charles Oliveira against Makhachev next weekend in the UFC 294 main event from Abu Dhabi in what is a somewhat unexpected rematch of one of the most competitive UFC title fights of the year.
And while most would say a lead-in time of a little over a week is a significant disadvantage, Volkanovski sees more than a few positives.
"Everyone points out all the cons, and there's a lot of them, but there's definitely pros at the fact it's such short notice," the Aussie told ESPN. "The fact that I'm fresh — mentally and physically — is going to be unreal. I haven't had the pressure all camp. I haven't had the pressure of going through all these gameplans."
The 25 minutes (at most) he spends in the cage in Abu Dhabi, Volkanovski adds, is the "easy part."
"Fighting is the easy part," he said. "I get to go out there and literally do this easy, fun part. Preparation, it ain't fun. Don't get me wrong, I'm disciplined, I'm going to do it. If you see me train during camp, that's hard work. But I didn't have to drain myself with all of these injuries. I get to go out there with not a mark on me, fresh as a daisy.
"I've never had such a clear vision to what I'm going to do in there. Which seems weird because I've had such a short amount of time. [In other fights] I'm preparing for the worst. I don't have time to prepare for the worst and I'm nailing in on what I need to do. If there's anyone that can take this fight on such short notice, it's me, and when I go and get my hand raised, everyone is going to be looking at this as a blessing.
"'Eleven day-notice Volk' is a dangerous man."
Comments
comments