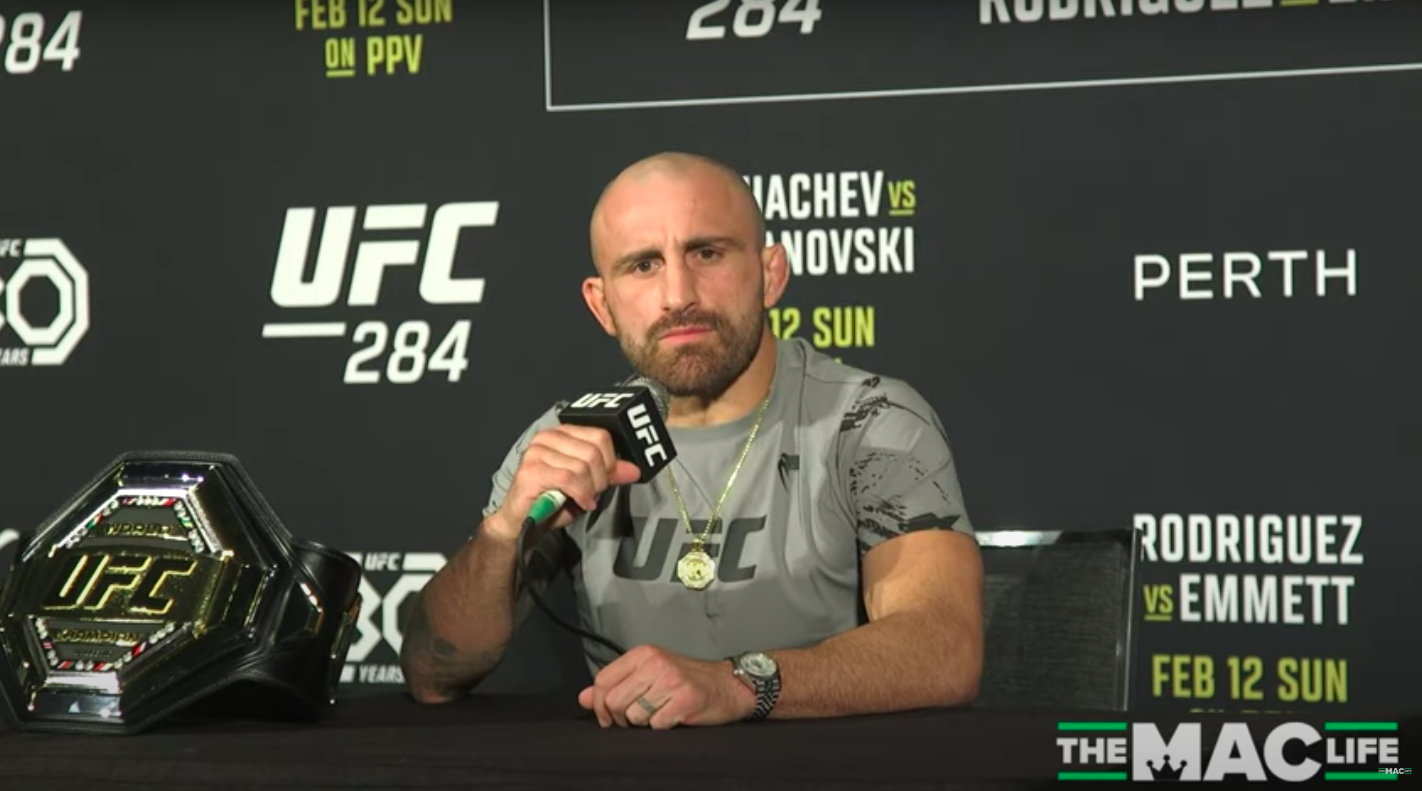 UFC featherweight champion Alex Volkanovski has vowed to finish Islam Makhchev in their upcoming rematch at UFC 294 this weekend in Abu Dhabi.
Volkanovski, the longtime UFC featherweight champion, fell short in their first meeting earlier this year in Sydney, losing by close but unanimous decision to the Russian 155-pound titleholder. But on Saturday, the Australian will come into the fight with minimal preparation having agreed to step in for the injured Charles Oliveira on just 11 days' notice.
But while some would no doubt see this as an uphill struggle having not had a full fight camp to ready himself, Volkanovski says that everything has aligned perfectly.
"There's still a lot of people acting like there's nothing to lose for me," he said on Monday to Ariel Helwani on The MMA Hour, via MMA Fighting. "You hear people that will say that, and I mean, that's a lie. Everyone knows I want this rematch, I want this belt, and if I lose this fight, I ain't getting a shot at the title any time soon. Let's be real. I ain't getting a rematch anytime soon, either."
This time around, Volkanovski says he feels a freshness that has sometimes been absent after prior gruelling training camps.
"It's exhausting going through camp sometimes," he explained. "Sometimes you do eight to 12 weeks of just absolutely bashing yourself, mentally and physically. So not to do that, obviously, you have to get yourself ready, but I'm sort of in a position where I don't lose fitness overnight. It takes me a long time to lose fitness.
"Now, I can take this sort of freshness [into the cage]? That's the word I've been using into this fight, going in there, sort of excited, fresh and … it's like I don't have to prepare for the worst. Can I do five rounds? Yeah, I think I can, but I'm not going to sit there and kill myself because I don't have time to prepare for the worst. But what I do have time for is to prepare for what I believe is going to happen."
And as for how it goes down on Saturday night, Volkanovski see his hand being raised.
"I believe I finish him," he said. "I think you're gonna see probably one of the most dangerous Volkanovskis you've ever seen, just purely because I can't afford to do anything else. Stuff leaving it to the judges. Stuff any of that. Let's just go out there and really set a statement. Go and knock him out? That's going be an absolutely mind-blowing for the world to see."
Comments
comments