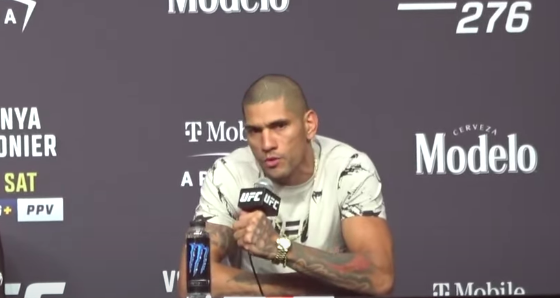 Israel Adesanya has an impressive record of 102 wins in just 109 professional bouts across his MMA, kickboxing and boxing careers — but what is perhaps more remarkable is that the man who handed him two of those losses, Alex Pereira, shares the card with him this weekend at UFC 276. 
World class striker Pereira defeated Adesanya in both of their fights, winning their first meeting by unanimous decision in 2016. It is their second fight, though, which lives longer in the memory. On that occasion in 2017, Pereira triumphed with a left hook which floored Adesanya, rendering him unconscious and prompting ringside medics to administer the stricken fighter with Oxygen.
'The Last Stylebender' has, of course, come back from that defeat to seize prominence in the UFC middleweight frame but Pereira, who faces Sean Strickland this weekend in the T-Mobile Arena, says that a third fight between the two will be an inevitability once this weekend has come and gone.
"Well (his statement) actually makes me confused," said Peireira of his rivalry with Adesanya. "Because with those two fights and the knockout, he actually claimed [the gloves] to be a pillow, but now we talk about four oz. gloves. It is a deadly weapon, but if the big pillows already make him leave on the stretcher with [oxygen being administered], imagine what's going to happen with four oz.?"
Pereira will be seeking just his sixth pro MMA win against the 25-3 Strickland but even given his relative inexperience, he says that it is merely a matter of time before they clash once more, this time in the UFC's cage.
But will Adesanya be agreeable to the contest? Pereira isn't so sure, regardless of what his rival says in the media.
"I don't think he wants the fight due to the history that we have," Pereira said. "If he really wanted the fight, when I first signed with the UFC he wouldn't let me do three fights like I'm doing now. He would just go to the organisation and if he agrees, I want the rubber match right now and I want to get back those losses.
"But after my win in the Garden, he said I still have four more wins before I reach to him. This is the third. But now goes and says that he wants to fight me next and everything that he's saying because he sees that it's on the contract so he has nowhere else to run."
But whatever happens, the Brazilian says his legacy in combat sports is assured regardless of his past results against Adesanya.
"It doesn't mean nothing to me when people say that because honestly I have way bigger achievements than defeating him in kickboxing," he said. "I became the GLORY double champ. So I have so many wins and achievements and titles after that. Obviously those wins count to the whole scene that we're having right now, but I believe that I have further more achievements than that."
Comments
comments