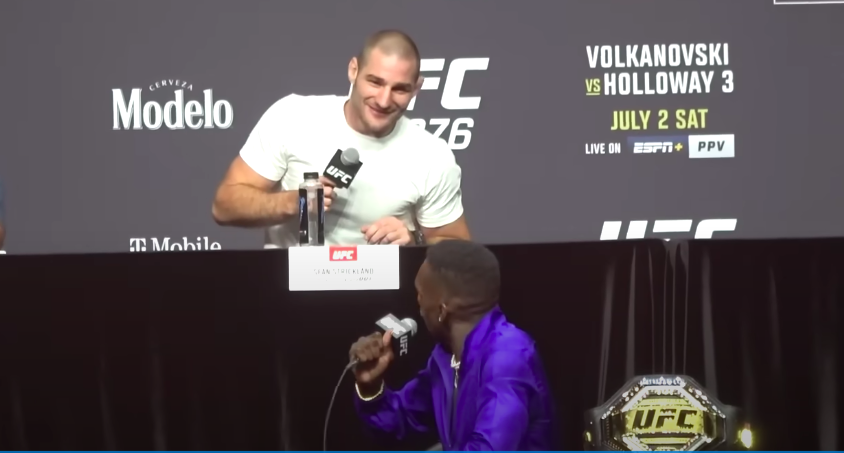 They're not even scheduled to fight anytime soon and you can already feel the heat rising between Israel Adesanya and Sean Strickland.
The outspoken Strickland has been on an impressive run recently, winning six straight fights at 185-pounds to improve his career record to 25-3 and rise to number four in the middleweight rankings. The American will get a stern test of his title credentials this weekend at UFC 276 when he takes on relative MMA neophyte but world class kickboxer Alex Pereira — a fighter who holds two wins over Adesanya in their kickboxing days.
And when asked who was the best striker on the stage, Strickland couldn't resist taking a shot at the middleweight king.
"I would say me but that man [Alex Pereira] was the one who slept that man [Israel Adesanya]," he said. "So next to me, probably Alex,. What was it 2-0 against Izzy? Izzy, what was it? 2-0?
"Did you watch the whole fight? Exactly, do your f*cking job next time," Adesanya shot back. "What happened before we walked on stage? I smacked you on the ass like my b*tch."
That was more than enough to Strickland to launch into a counter of his own: "Oh man, I made the champion mad with his f*cking frosted tips and his gay little watch, oh no! I'm just joking. Izzy is a savage. Bro, your Pornhub is just filled with cartoons. No man who beats off to cartoons is going to beat me. Calm down."
As for what he will face against Pereira, Strickland says he is aware of the scale of the task which awaits him in the T-Mobile Arena.
"Alex is a big, scary f*cking Brazilian," Strickland stated. "I think we all admit that. You're at an ATM and this motherf*cker walks behind you in the middle of the night, tell me you're going to be walking away? He's a tough dude. I've trained with plenty of good kickboxers. I think I can handle it.
"After we have a war and I beat Alex, you're going to see I'm a whole different guy. I'm going to start painting my nails, acting like a female. I'll be wearing sunglasses inside. I'm going to get me suits. I'm going to get me a nice car. I'm going to trade in my 2018 Nissan Frontier, get me a Porsche. Just f*cking wait. I'm going to leave all you guys behind. I'm going to be the best champion you've ever seen."
Comments
comments