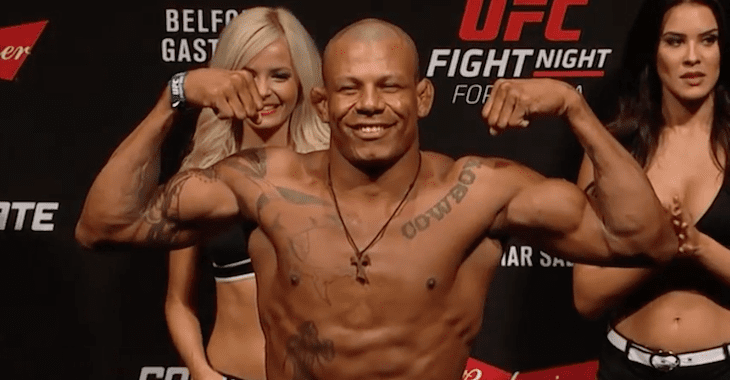 Alex 'Cowboy' Oliveira had a memorable end to his year.
At UFC 231 on December 8 the Brazilian was defeated by second round rear naked choke by Gunnar Nelson, just seconds after the Icelander opened a gash with a scything elbow delivered from mount. It would require more than 35 stitches to suture the wound — but, believe it or not, that wouldn't be the most remarkable thing that happened to him in the span of the month.
Just a few weeks later in his native Brazil, Oliveira, who was coming to the aid of family members he saw engaged in a dispute, had a live grenade thrown at him as he exited a vehicle. The resulting blast left him with fragments of shrapnel embedded in his leg and in need of (minor) surgery.
And, according to his manager Alex Davis, it could have been far worse as the brunt of the blast was taken by another vehicle which separated Oliveira from the grenade's thrower.
"Being a fighter, the other group was some of the bad guys, and they thought it was a good moment to lob it out there and make it interesting, I guess," Davis said to MMAjunkie Radio.
"In Brazil, you're not supposed to have guns and grenades, but everyone has them, anyway. We were very lucky that nothing worse happened."
Oliveira's loss to Nelson was just the third he has suffered in his past 10 bouts, which includes wins against Carlos Condit, Ryan LaFlare, Tim Means and Will Brooks.
Comments
comments