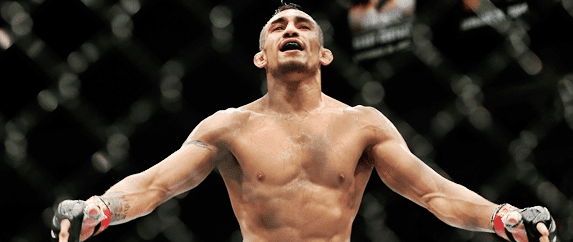 Earlier this week, two of the UFC's more colourful characters in Al Iaquinta and Tony Ferguson found themselves in a disagreement on social media.
It all started when Ferguson mocked UFC lightweight champion Khabib Nurmagomedov — who defeated Iaquinta for the belt — and his new title reign, claiming Nurmagomedov's win over no. 11 ranked Iaquinta meant he wasn't quite the deserving champion many thought he was.
That unsurprisingly irked the third man in the equation, Iaquinta, who fired back at Ferguson and mocked the nature of the injury that forced 'El CuCuy' out of his own fight with Nurmagomedov.
The two engaged in a further back and forth, but if fans thought that was the end of any interaction between the two, they might be (perhaps happily) incorrect. Speaking on Submission Radio today, Iaquinta went off on Ferguson, evidently irritated by the former interim champion's attitude towards him.
"I was just like, dude, shut the fuck up," said Iaquinta. "Who is that guy to say anything? He had his title shot and he freaking blew it. He tripped on a wire. That's like, nature's weeding you out. You're being weeded out. You're like a kid. Kids trip over things. Adults, like, you're a professional athlete and you can't not trip over a wire? And then you're [talking trash]? Disappear for a while. You're a fucking idiot, you know what I mean?
"If that happened to me, if I had to pull out of a title fight because I tripped over a wire, you're not hearing me talk shit on Twitter at all. I'm gonna hide somewhere, I'm not gonna act tough. He's acting tough. Right now, a middle school kid could kick the shit out of him right now because he can't do anything. You can't talk shit when you're in the state that you're in. That guy is so weird. He's so weird."
And, while Ferguson vs. Nurmagomedov was one of the most anticipated contests in recent memory, Iaquinta believes that outside of competition, Ferguson has very little to offer to.. well, anything.
"He's really just good at fighting and that's it. If it wasn't for fighting, he'd be like a worthless person," Iaquinta said. "There's no point to Tony Ferguson besides people beating his ass. He gets dropped every fight and he's out of his mind. People like watching get his ass kicked and come back and win. That's the only thing that Tony Ferguson is good at in the world. No one likes personality, he's a weird dude. Like, I don't even know what's the point in that guy? There's no point. Just go away. You tripped on a wire and I got the title shot, now you're gonna come at me?"
Comments
comments