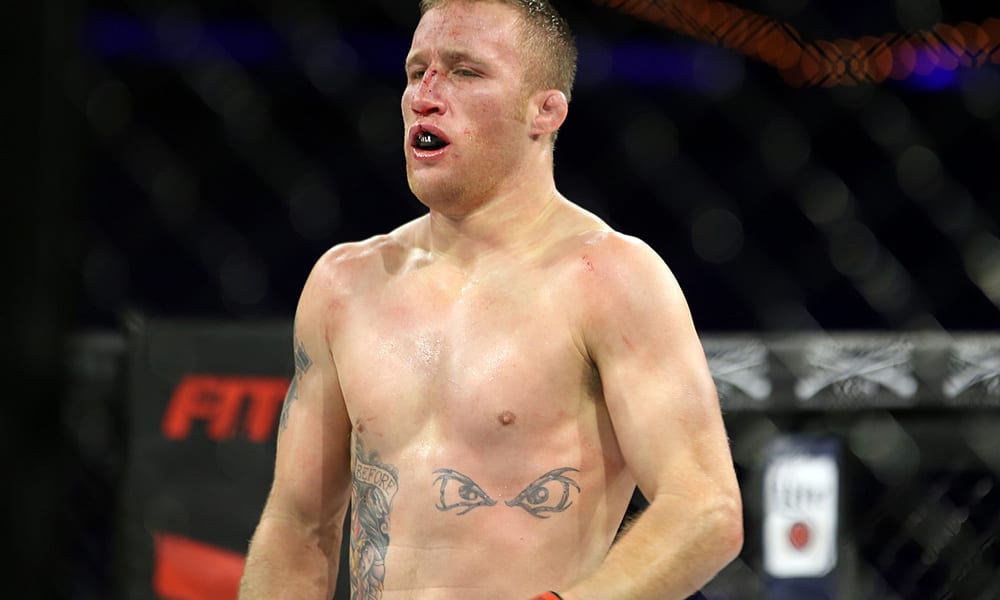 Justin Gaethje doesn't view the sport of mixed martial arts the same way as everyone else. While other fighters aim high, and try to avoid the crushing lows the sport can bring, Gaethje has a whole different approach. Win or lose, it doesn't matter, so long as he feels like he was in a fight.
At UFC 218, Gaethje was in just that. After going three back and forth rounds with Eddie Alvarez in an undeniable war, Gaethje was rendered unconscious after a vicious knee in the third. Despite the loss — and the damage he took — Gaethje can't do much but look back and feel good.
"It's crazy, the way I fight, it's definitely hard to – I would argue to anybody that I won the first round," Gaethje said, speaking to MMA On SiriusXM. "I did some major damage to his lead leg in that first round. He did a good job of putting his hands on me but definitely didn't do a lot of damage. He definitely beat me in that second round and in the third round, I thought it was a close fight. If it would have went to the scorecards, I'm sure he would have got it because of the takedown or something and he was a little bit more active with punches but I cause a lot of damage when I do land my strikes and it's hard to judge that.
"I'm glad I got knocked out instead of going to a decision and losing because that's not the way I want to lose. I'm happy with my performance. I feel like I won because I tried so hard. My preparation was there and ultimately I went out and did what I go to do and that's entertain people and entertain myself really. And I had fun."
.@Justin_Gaethje tells @MieshaTate & @realOCsports that he's glad his fight with @Ealvarezfight ended in him being knocked out rather than having it go to the scorecards & that Gaethje is happy with his own performance. #UFC218 #alvarezvsgaethje pic.twitter.com/WwMXVorQ5a

— MMA on SiriusXM (@MMAonSiriusXM) December 14, 2017
Plus, it's not as if Gaethje is worried about his job security. Having only joined the UFC this year, Gaethje has had two bouts with his new promotion, and both of them are contenders for fight of the year. Because of that, Gaethje knows the UFC will likely keep him around for as long as they can, and use him in the best way possible.
"With the way I fight, the UFC's not stupid," Gaethje said. "For one, they probably know that they're don't have me forever. I'm not gonna be around. They don't have but six to seven more fights out of me. I believe that I'm one of the top competitors in this division in the world, so I'm gonna keep fighting people at the top of the division for right now.
"I definitely would have wanted to call someone out ahead of me had I won this fight but since I lost I don't think I have that position anymore. But they're not gonna make me fight someone way back there. From a business standpoint, of course I'm not gonna fight someone that's unranked or something like that.
"I think I'm on the same page as the UFC right now and luckily, one loss doesn't kill you. Two or three does so I've got to go out there, and get a big win in my next fight, it doesn't matter who it's against."
Comments
comments