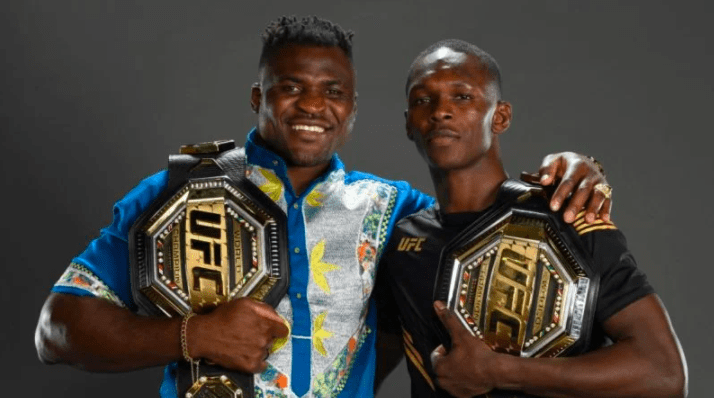 Israel Adesanya says that the UFC would be a poorer place with the talents of Francis Ngannou in its heavyweight division.
The UFC middleweight champion, who was born in Lagos, Nigeria, says that the Cameroonian Ngannou should be afforded a bit of wiggle room to pursue some of his goals outside the UFC without both parties having to sever their relationship entirely, and that his status as one of the most dominant heavyweights in history should be preserved by his present employers.
Ngannou's first title defence last month against France's Ciryl Gane came amid a shroud of a pay dispute between Ngannou and the UFC, and even more-so afterwards when his disclosed pay of $600,000 was revealed. While that sum is likely without any of the additional bonuses he may be due, as well as pay-per-view points, critics pointed out that the sum was significantly lower than that offered by boxing's top-ranked heavyweights — and with Tyson Fury repeatedly stoking rumours of a cross-code showdown with Ngannou, those lofty boxing paydays seem within his grasp.
"I felt like some of the stuff that was happening before the Francis fight, I was not a fan of," Adesanya said to Ariel Helwani on The MMA Hour this week, via MMA Fighting. "I just felt like certain things should — like I said, this is business, man. You can't get too personal. This is just business. And money's always around, there's money everywhere. You can find money everywhere. So for the heavyweight champion of the world in the UFC to be getting paid what he was getting paid was atrocious."
Adesanya recently signed a new deal with the UFC which he said makes him the second-highest paid athlete on the roster behind Conor McGregor and he hopes that this impasse with the UFC brass doesn't lead to Ngannou walking away from the organization as he will be entitled to do at the end of year.
"I don't want him to leave the UFC. It'd just be sad," Adesanya stated. "I just, I feel like this is the guy, you know? Look at him. And he's one of the three kings. I just don't [want him to leave]. Maybe I'm being selfish. But I just feel like I don't even want him to box. Well, he wants to box — if he does, he should box. He can figure out something with the UFC and the contract. They let McGregor do it, so they can figure something out.
"But I just don't him want to box. I'm like, you're the baddest motherf*cker on the planet. You know? I don't want him to just use his hands. If you really want to fight Francis, fight him. You know? And Tyson's the kind of guy that might do that. He's crazy. 'Gypsy King,' he might do that.
"I just feel like this is the top level of fighting. I'm not being biased. I don't care about kickboxing, jiu-jitsu, boxing — whatever style of fighting that you do alone, if it's singular, it's a limited form of fighting. If you want to fight legally, this is the way to do it. The UFC is the place to do it, where it's like the highest level of fighting."
Comments
comments