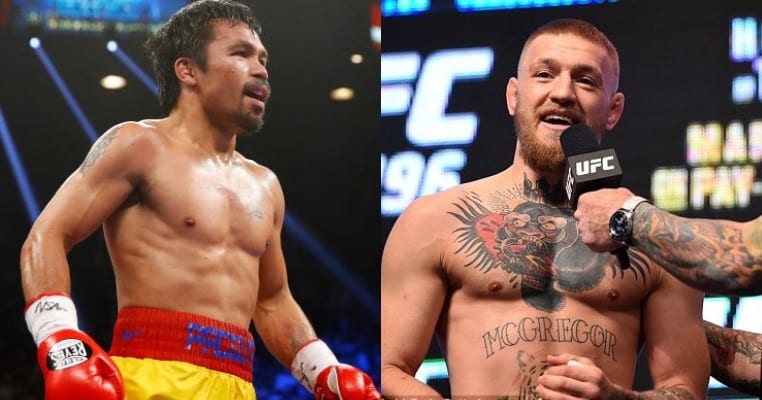 One of the nuggets to emerge from Conor McGregor's near hour-long, wide ranging chat with Ariel Helwani as broadcast by ESPN on Monday was he sees his professional boxing career as far from over.
McGregor had the most high profile professional boxing debut in the sport's history in August 2017 when he took on Floyd Mayweather in what was one of the most-watched sporting contests of all time, and he told Helwani that he sees more boxing bouts in his future — and even identifies the prospect of gaining a world title in the sport as being a primary goal.
"I would be open to other boxing bouts. You know, Manny (Pacquiao). We're actually close to signing Manny," McGregor said. "There's been talks about the Manny fight as well. There's been an offer made on (a potential fight with Pacquiao).
"There's just negotiations going on."
Mystic Mac predicts he will wear boxing gold 🔮 (via @ArielHelwani) pic.twitter.com/kbsZSMAMyn

— ESPN Ringside (@ESPNRingside) January 13, 2020
And it's not just the Filipino that McGregor is focussing his crosshairs on.
"Very much so," McGregor continued when asked by Helwani if a fight with Pacquaio is a possibility, further identifying some other potential opponents.
"And then the Paulie (Malignaggi) fight. I'd like to box Paulie. Why not? That's a bit of buzz as well. I want to box again. I will box again. I will get a boxing world title."
Helwani asked if a pursuit of a boxing world title would require him to take several bouts to work his way up the divisional rankings, and McGregor's response was a simple one.
"No," he said with a laugh. "I would box multiple times. I love boxing, and I'm damn good."

Comments
comments