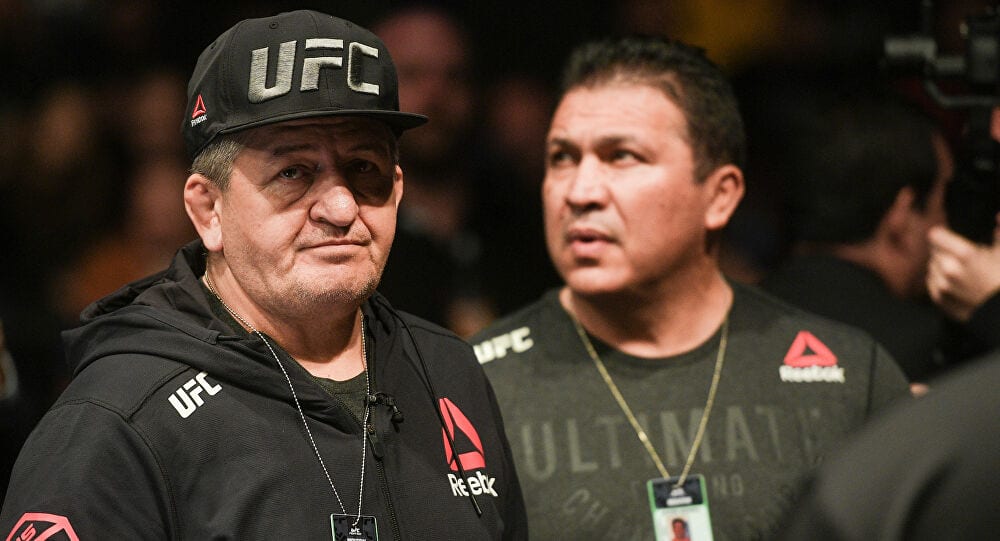 Abdulmanap Nurmagomedov, the father of UFC champion Khabib Nurmagomedov, has passed away from complications related to Covid-19, according to reports emerging from Russia this afternoon. He was 57.
The patriarch of the Nurmagomedov family, Abdulmanap contracted the disease several weeks ago and was reported by Russian media as having suffered complications which affected his heart which required emergency bypass surgery and was placed into a medically-induced coma.
His condition had been announced as 'serious but stable' but according to Russian news agency TASS, Nurmagomedov unfortunately lost his fight with the illness and reports of his death circulated early on Friday.
Nurmagomedov is understood to have fallen ill towards the end of April in Dagestan and was subsequently treated for pneumonia-like symptoms. He was later transferred to a Moscow military hospital where he tested positive for Covid-19 and shortly after suffered a heart attack. He understood to have been in a coma and, despite reports suggesting that his health had been improving in recent weeks, the unfortunate news of his passing is now confirmed.
The elder Nurmagomedov has been credited as honing his son Khabib's training from a young age, and had been considered a dominant figure in Russian MMA where he was affectionately known as the 'Godfather' of Dagestani martial arts.
Several figures from the mixed martial arts fraternity have paid tribute to Nurmagomedov in the hours since his death was announced, and you can see a selection of them below:
Very sorry to hear of the passing of Abdulmanap Nurmagomedov. A genius of combat sports and absolute inspiration to so many up and coming fighters. Sadly only entering his prime of coaching such a loss and tragedy. RIP and best wishes to his family during this difficult time 🙏🏽

— Coach Kavanagh (@John_Kavanagh) July 3, 2020
RIP Abdulmanap Nurmagomedov.
In my last fight in Russia the crowd started attacking the cage after I won,it was turning into a scary situation,my safety seemed in genuine danger.
Abdulmanap came into the cage & settled things very quickly.
He seemed like a great man.

— Peter Queally (@peterqueally) July 3, 2020
So sorry for your loss @TeamKhabib My thoughts are with you and your family. https://t.co/QauiSk1QbX

— michael (@bisping) July 3, 2020
RIP Abdulmanap Nurmagomedov 🙏

— Dillon Danis (@dillondanis) July 3, 2020
Sincerest condolences to @TeamKhabib.
RIP Abdulmanap Nurmagomedov.

— Jan Blachowicz (@JanBlachowicz) July 3, 2020
Deeply saddened to hear this news. My heart goes out to the ever-classy champion @TeamKhabib and his family. I'll never forget that moment between father and son in the Octagon at UFC 242 last fall. 🙏🏼 https://t.co/ICDBq7C5zD

— Jon Anik (@Jon_Anik) July 3, 2020
Comments
comments