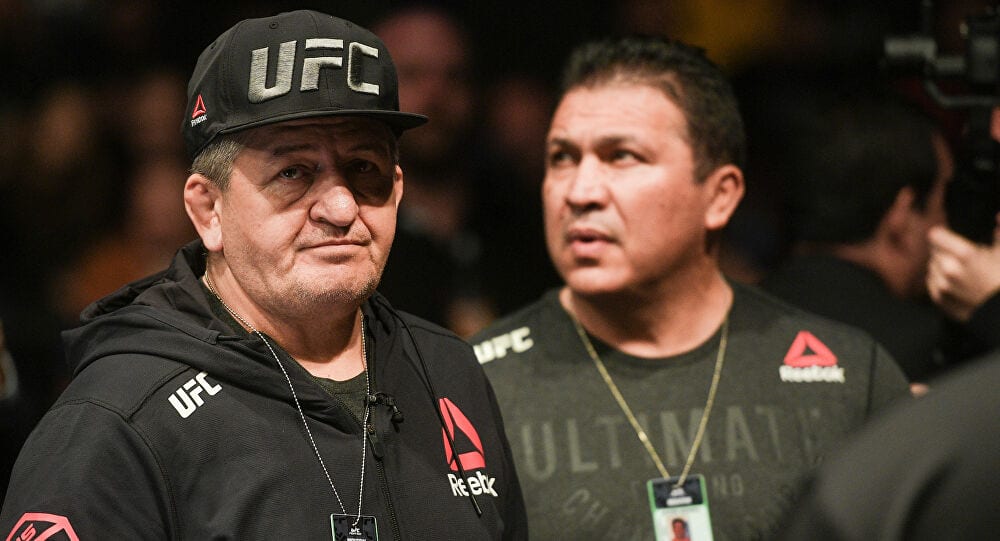 Abdulmanap Nurmagomedov, father and trainer of Khabib Nurmagomedov, has woken from a coma according to reports from Russia.
Nurmagomedov, 57, is being treated in a Moscow military hospital where he had been transferred from Makhachkala in Russia's Republic of Dagestan after becoming ill in late April with a pneumonia-like complaint. His condition is understood to be 'serious but stable' and he has yet to speak after emerging from the coma.
"He regained consciousness today. He hasn't yet spoken. Yesterday [Wednesday] he was in a coma after a heart operation," Ramazan Rabadanov, a friend of the Nurmagomedov family, said to 360 TV.
Reports emerged on Wednesday that Abdulmanap was in a critical condition and that he had undergone heart surgery.
"Abdulmanap is in a bad condition, he's in Moscow and in a coma," a source was reported as saying to the Sport Express on Wednesday. "They didn't treat him properly in Dagestan, and some complications arose. They flew him to Moscow, where he is now in a military hospital. He's on his own there, they won't allow family [to visit]".
Several figures within the mixed martial arts community have issued messages of goodwill towards the Nurmagomedov including UFC president Dana White and Conor McGregor, who wrote on Twitter: "Praying for the recovery of Abdulmanap Nurmagomedov. A man responsible for more World champions, across multiple fighting disciplines, than we even know. A true martial genius! Very saddened upon hearing this news tonight. Praying for the Nurmagomedov family at this time." 
The status of his father's health casts further doubts as to when Khabib Nurmagomedov may be willing to entertain a defence of his UFC title. The Russian had previously stated that he was targeting a July return to the cage, but Dana White has stated that September may well be a more appropriate timeline for his comeback.
Comments
comments