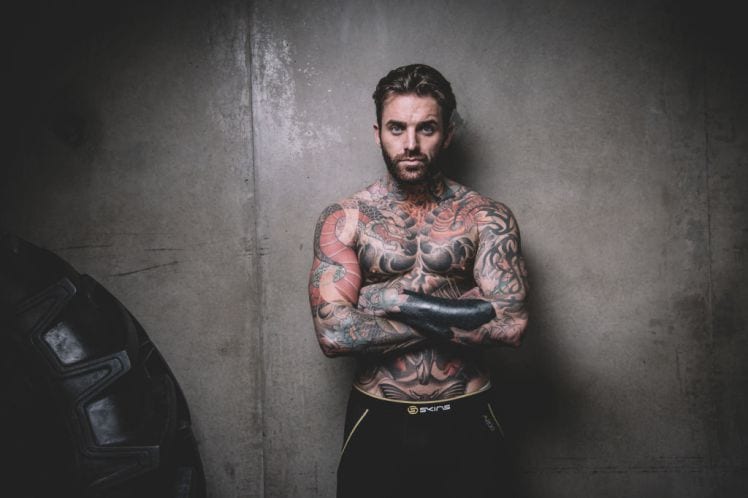 Reality star turned mixed martial artist Aaron Chalmers might not have been in any danger inside of the cage so far, but he's finding a tough fight outside it at the moment.
Chalmers is currently under contract with UK promotion BAMMA, despite being allowed to appear under the Bellator banner earlier this year. According to Chalmers, who appeared on the Ariel Helwani MMA Show this week, BAMMA are now going back on a previously made agreement where they would release Chalmers in order for him to proceed with the larger organisation.
"I was told I was going to be released from my BAMMA contract after the fight with Bellator, that didn't happen," Chalmers said. "It's a load of stuff that is now affecting the fighting because it's a legal case that I can't fight. So, BAMMA said they don't want us to fight for them again, I won't fight for them again after what's happened, so it would just make sense to terminate the contract but for some reason they're not releasing us."
The affair will no be taken to court, where Chalmers will discover if he's obligated to fulfill his agreement or not. It's all an ordeal he'd rather avoid.
"I never signed with Bellator," Chalmers said. "BAMMA gave us a one-fight release, so I could fight on Bellator and afterwards they said they would release us which was part of the deal and it never got stuck to. It's unfortunate that it's had to go to court.
"Apparently there were some things that were said, apparently I wasn't making a difference when it come to the fighting, ticket sales. But my last fight in my hometown was 6,500 people, their last show was 300 people so there's a bit of a difference there."
And it's not just Chalmers' MMA career that's been bothered by the issue with BAMMA. The former Geordie Shore star had been eyeing a boxing contest in England's flourishing pugilism scene.
"It's not just affecting my fighting, it's affecting other things," Chalmers said. "I've had TV offers that I can't sign for because it's in court. I've got offers from a big boxing promotion to fight in Europe, in England that I can't look at. Obviously, I've got an offer on the table from Bellator that I can't sign. It's just holding everything back. It's unfortunate that it's come to this because when I was with BAMMA we had a great relationship."
Comments
comments