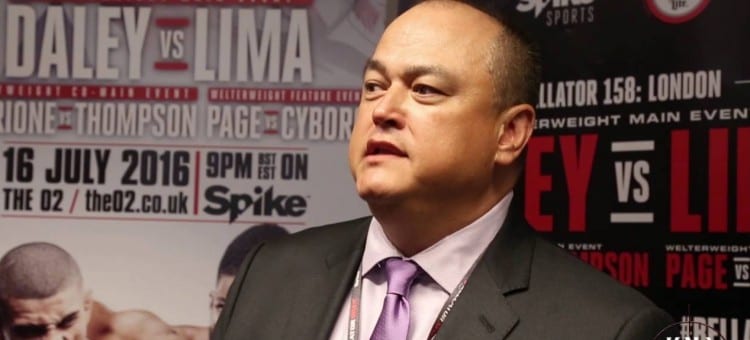 For a while now, at Bellator's big events, it's not been unusual to see 50 Cent beside the cage enjoying the contests.
According to Bellator president Scott Coker, that interest from the rapper (real name Curtis Jackson) was purely from a fan aspect, with Jackson appreciating the Bellator product. Today, the pair turned that appreciation into a business venture.
In a press release, the company announced a "comprehensive partnership" with 50 Cent, containing an apparel deal and a champagne sponsorship. As part of the agreement, 50 Cent (and Le Chemin du Roi Champagne) will award the winner of Bellator's welterweight Grand Prix $1 million.
"We are thrilled to partner with such a legendary icon who has been a friend to the Bellator family for quite some time. The "Get The Strap" apparel line is just the beginning of many joint ventures we will explore together," Coker said in the release.
Jackson's champagne will now feature at events from in-arena signage to mat placements and more.
"I am excited to partner with the Bellator Viacom franchise," Jackson said. "Mixed martial arts yields some of the most action-packed events in the world. I'm excited for people to see how I plan to shake up MMA with the integration of my 'Get The Strap' trademark as well as my luxury champagne Le Chemin du Roi.
"Bellator has a roster filled with some of the most charismatic athletes in the world. As my relationship with Bellator deepens, you will see me moving into fighter management opportunities that will allow me to integrate top stars into both scripted and unscripted projects across the Viacom networks, as well as the other outlets I have access to."
No word on Jackson's response to SBG fighter Charlie Ward's callout yet.
–
Comments
comments