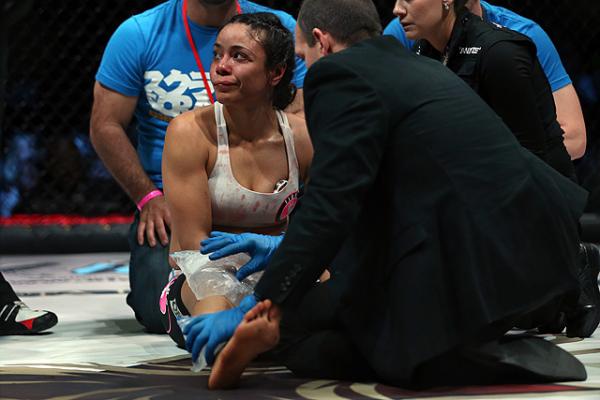 Miriam Nakamoto is a world champion kickboxer and Muay Thai fighter. Some six years ago, she began transitioning into mixed martial arts when she suffered a tear on her meniscus, injuring her and keeping her stuck on the outside looking in.
While on the sidelines, Nakamoto attempted to raise enough money to get stem cell therapy, one of the few treatments that could put her misery behind her, but failed to reach the required figure of $30,000.
And then yesterday, UFC commentator Joe Rogan told her she'd be flying her to meet Dr. Neil Riordan, who would treat her injury — and she wouldn't pay a penny.
Nakamoto, who appeared on Rogan's podcast last year, took to her social media to reveal Rogan's gesture, along with an emotional message of gratitude.
"So …this happened today. I'm struggling to find the words," she wrote. "I've been trying to make a comeback for almost 6 years now. I've come close a few times. But I kept having difficulty with my knee. There's not much to be down with a grade 3 lesion on a meniscus besides stem cell therapy. I didn't have $30,000 so I did the best that I could, but I still always came up short. And then this happens today. I'm still in shock. Thank you Joe Rogan. See you soon Dr. Riordan!"
On Sunday, Nakamoto added some thoughts via her Instagram story, talking through tears about how she'd seen an image of the fight in which her injury occurred, and how it suddenly put everything into perspective.
"Since yesterday, I've kind of been in shock," Nakamoto said. "I wanted stem cell therapy for a long time, since the doctor told me it was really the only option for me. And to be given that gift just.. kinda couldn't process it. But now just seeing that picture from the fight when my knee blew out.
"Blessing. Here it is."
Comments
comments