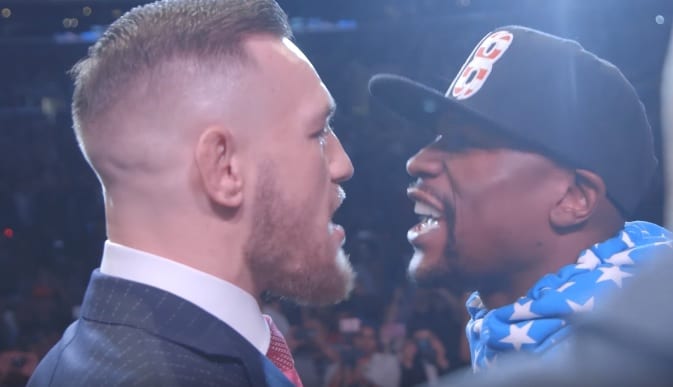 Their rivalry may have captivated the sporting world for the duration of last year, but it seems Floyd Mayweather has put any ill-feelings towards Conor McGregor behind him.
The two men met on August 26 last year in a historic contest as McGregor switched from mixed martial arts to boxing in an attempt to hand Mayweather his first loss. While it may have been the boxer who walked away happier on the night, it seems McGregor's effort earned Mayweather's respect, and as the Irishman prepares to meet Khabib Nurmagomedov at UFC 229, Mayweather isn't shy about offering his support.
"Conor's not gonna back down and he's not a scared fighter at all. Win, lose or draw, Conor's gonna come to fight," Mayweather said, speaking with TMZ. "I don't really have a prediction because I've never seen the guy fight that's facing Conor McGregor. From what I know he's a hell of a guy that's on the ground, hell of a grappler, and he can wrestle.
"But, the fans want to see you stand up and fight. That's what the fans like to see. But, Conor McGregor, he's a tough competitor, like I said before Conor McGregor's not gonna back down from anyone, he's not scared, he's a warrior."
And not only is Mayweather wishing McGregor the best, he's going one step further, offering an open invite for McGregor to come train at the famous Mayweather Boxing Club.
Comments
comments