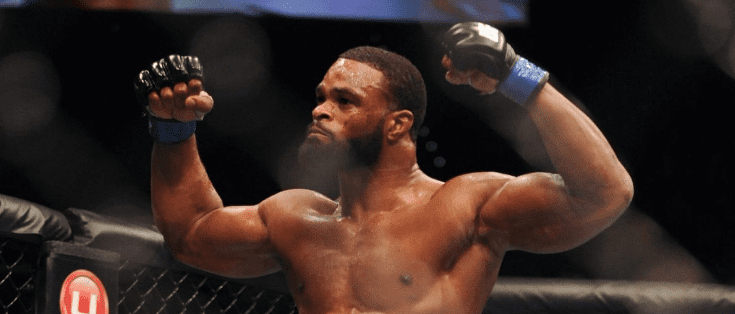 When Darren Till missed weight ahead of his fight with Stephen Thompson, he opened himself up to extra scrutiny over whether or not he can really make the welterweight limit of 170-pounds. And ahead of his title fight with Tyron Woodley at UFC 228, that conversation is starting to ignite once again.
Indeed, other welterweights are quick to use Till's perceived struggles for their own uses. Recently, Kamaru Usman revealed he planned on training up to September 8 so as to remain in contention should Till fail to make it to fight night as planned. Today, however, champion Tyron Woodley let Usman he should save himself the bother — he won't be accepting a new opponent on short notice.
"Me and Usman will fight at some point in time, and I'm with it," Woodley said, speaking on the Ariel Helwani MMA Show. "I'm with it. I'm with fighting him, I'm with fighting Mike Perry, all these dudes I respect. I like a person who brings true skill sets to the table and is a true fighter. I'm with it all day. But I'm not going to fight [Usman] on no 24-hours notice, bro.
"I've been training for a 6'3 striker, southpaw. Not a 5'10 poor stand-up. Negative. I don't do what I do the best because I wing shit. I train, I prepare, I strategise, I break my opponent down to a molecule and I drown them. I leave them empty, I take away all their best gifts, and then I snipe them. I'm not going to switch it up in five minutes.
"I'm a world champion. I deserve proper notice, I deserve proper time to prepare and train for a world title that I worked so hard for. I'm not going to step in. I'm not that guy. Go grab fucking [Donald] Cowboy [Cerrone]. I'm a professional, and I'm a champion. If [Usman's] wants to fight me, it's going to be on a full training camp. And I would gladly take him up on that offer."
Comments
comments