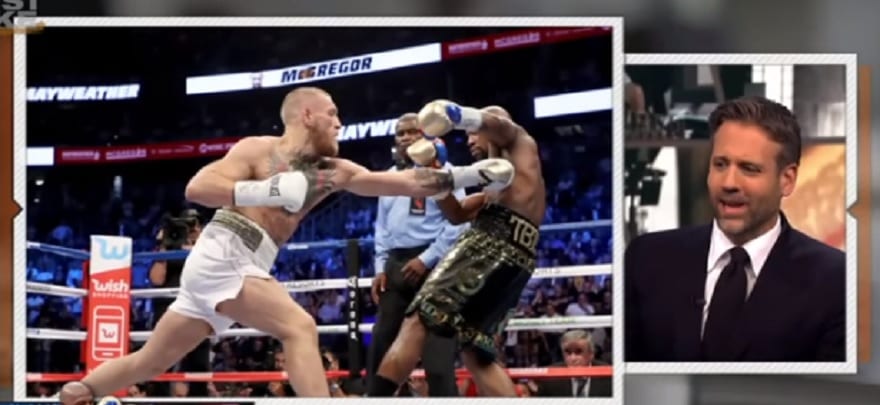 Prior to last weekend's main event in Las Vegas, boxing analyst Max Kellerman was part of a chorus of purveyors of the sweet science who denigrated the Conor McGregor vs. Floyd Mayweather match-up as a circus.
McGregor, he had said, wouldn't lay a glove on the untouchable and undefeated Mayweather but after the evidence from the T-Mobile Arena proved that prediction to be a fallacy, Kellerman has recanted his pre-fight words and heaped praise on McGregor — even in defeat.
"I want to start out by saying Conor McGregor deserves enormous credit," Kellerman said on ESPN's First Take. "He is an exceptional fighter, an exceptional fighter. Even among champions he stands out. And what stood out to me for Conor the boxer… First of all, he is making his pro debut against one of the best fighters ever. I'm going to get to the age thing in a second, and he's, early on, doing enough to stay in the fight. That's amazing. Even the fact that he went ten rounds in his pro debut is amazing."
McGregor surprised several sections of the boxing community, lauded champions George Foreman and Sugar Ray Leonard among them, not only by his ability to take Mayweather deep into the fight but also by his ability to land blows and win early rounds from the fighter hailed by most as the finest to ever lace up a pair of boxing gloves.
It was McGregor's fight IQ which Kellerman noted as being particularly impressive.
"How is he able to have any success at all? He is not only incredibly determined with a huge heart and athletic. By the way, when you see one fighter get around another fighter as Conor did to Floyd and actually step behind him, that means his feet are faster, it means he's younger, or at least more athletic – that's a huge thing. Conor is athletic, energetic, determined, his preparation is clearly there, but more than anything, it's his fighting brain.
"Conor McGregor, as most great fighters have, has an extremely high fighting IQ. It's the reason that he didn't really hit Mayweather with anything hard. He didn't load up on any punches, he had the uppercut in the first round. I know I said that he would not even lay a glove on Mayweather, not a clean punch, and I have a lot of people on Twitter saying he landed 111 punches – no he didn't. But Conor did land about ten or a dozen punches over the course of ten rounds, which is actually more than most fighters land cleanly against Mayweather.
Kellerman noted that Mayweather is correct in his decision to finally and definitively step away from the sport in which he retires with the proudest professional record in pugilist history, saying that this generation of younger boxers would likely get the better of him sooner or later but was ebullient in his praise for the fight that transpired last weekend.
"So, the big take away from me is, that was the best version of the fight it could have been. I was wrong to say Conor wouldn't land a punch – he landed several actual punches cleanly. He won a few rounds early when Floyd hadn't started fighting yet, which is amazing to me. But ultimately he didn't really have a chance to win the fight and Floyd won in the way he did partly because he is an older, flat-footed fighter now."
Comments
comments