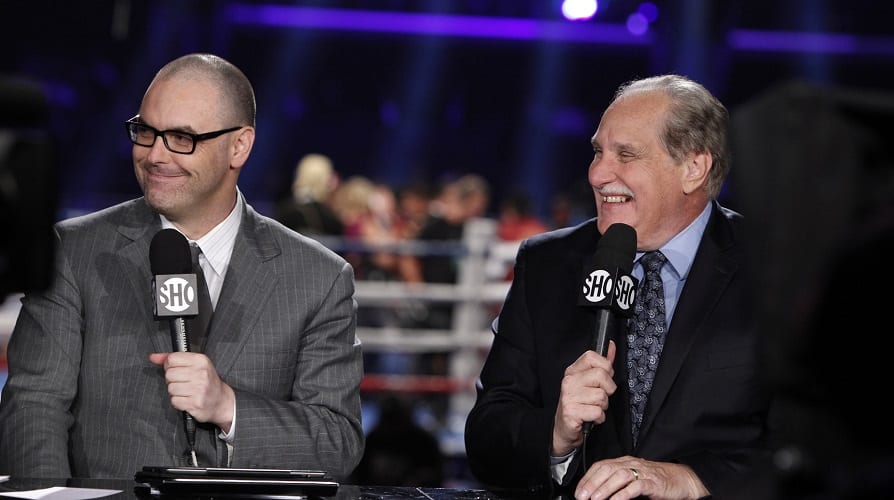 Recent Bellator signee Mauro Ranallo has been confirmed as the play-by-play announcer for the Aug. 26th boxing match between Conor McGregor and Floyd Mayweather.
Ranallo (above left), who has vast experience in commentary in both MMA and boxing, will be joined in the broadcast booth by Showtime regulars Al Bernstein and Paul Maglianaggi. Brian Custer will host the event, Jim Gray will be the ringside announcer while Steve Farhood will be the unofficial scorer.
Showtime, who will produce all elements of the broadcast, confirmed the news on SportingNews.com.
The report also confirms that there will be as-yet-unannounced "guest commentators" for the fight which will likely be filled by some members of the UFC's own broadcast team. Joe Rogan would appear to be the obvious choice, given his status as the UFC's longest serving announcer though he has a comedy show booked in Washington DC on the same night as the event.
However, in news which will disappoint some sections of the MMA community famed boxing ring announcer Michael Buffer has confirmed that he will not be in attendance as he has been booked for another fight card on the same night.
Speculation online had suggested that Michael, along with his brother UFC ring announcer Bruce Buffer, would share ring announcing duties for the historic event but instead, it appears that Jimmy Lennon Jr. has landed the gig.
I'm already booked on that date-sorry. If the fights on Showtime the announcer will b HOF'r @TheClassyJr It'd b great 2C Bruce there also!

— Michael Buffer (@Michael_Buffer) June 14, 2017
.
Comments
comments