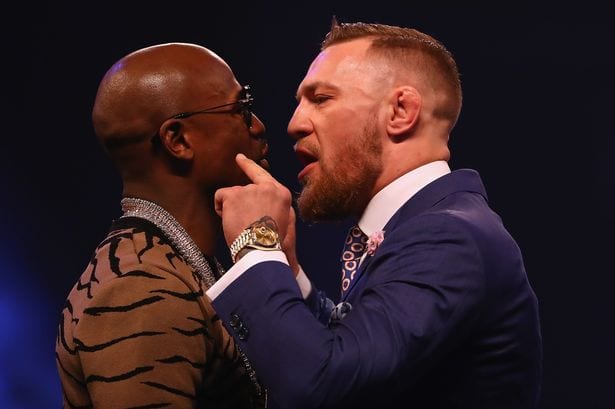 After four days of travel, standing and entertaining multiple cities and countries, it ended in London in front of the — as predicted — most raucous crowd yet.
Following  a lull in Brooklyn, it was just the ticket to get viewers excited for what will certainly be the biggest combat sporting event in history. And with the terrible audio issues of New York behind them, McGregor and Mayweather were once again allowed to respond and entertain the crowd to the best of their ability.
For McGregor, it was something of a homecoming. Surrounded by his countries flag, the Irishman was greeted by some 5,000 fans who had flown to London specifically for the occasion.
With the tension of yesterday was gone — perhaps a positive thing in the wake of an onstage near-scuffle — McGregor looked to be far more comfortable, continuing his roast of Mayweather and Showtime Executive Stephen Espinoza, gaining constant laughs from the crowd.
Even Floyd had to smile a little at that one. #MayMacWorldTour #MayweatherMcGregor pic.twitter.com/Tm64qYJsl1

— FloCombat (@FloCombat) July 14, 2017
When Floyd had his time on the mic, it has to be said that much was repeated from his last appearances, including using a DJ to play music to mock McGregor — and most of what was said was drowned out by the baying London crowd.
But for both men, you get the sense of relief that the talking (despite being what made them famous) is over.
Now, all that's left, is the fight.
Comments
comments