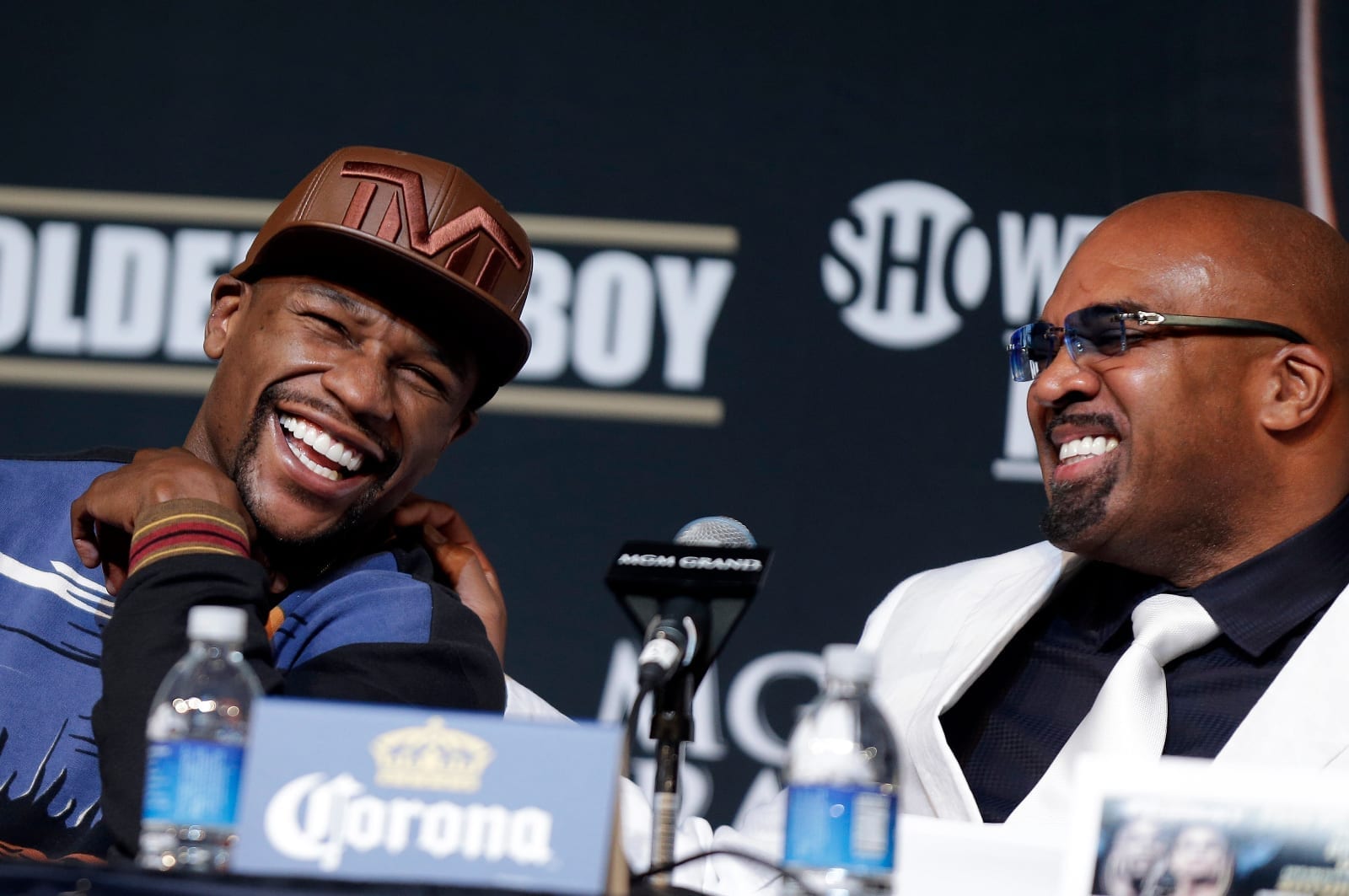 Could it be that working in a close proximity to UFC president Dana White can rub off on you? Leonard Ellerbe might have to concede that it does.
The CEO of Mayweather Promotions appeared in front of the media in Las Vegas today during his boxer Floyd Mayweather's open workout. Whether it was the stifling hot Nevada air, or perhaps the cramped conditions in the gym, he was — to put it mildly — not cheerful.
Responding to a number of criticisms in regards to the upcoming Conor McGregor vs. Mayweather boxing bout, Ellerbe let a few things off his chest.
"The fact of the matter is we have over $60 million in the box office right now, which is more than double any other live gate that's ever been done," Ellerbe said. "[Canelo Alvarez vs. Gennady Golovkin] that they have on the 16th of September, next month, our fight right now we've got more in the box office right now — double — than they will have."
"That's what's wrong with boxing today," he continued. "You guys are always complaining and looking for shit to complain about when there's nothing there. That's the reason why we can't be innovative. That's what Floyd Mayweather has done differently than anybody else. He's thought outside the box.
"The general interest from just the casual fans, who are very excited about this event coming together, thats what makes this massive. "Just not only in the U.S., just the international exposure alone, this thing has taken off."
He was just getting started. After a question was put to him that hardcore fans were the ones with grievances about the spectacle, Ellerbe upped the scorn another few levels.
"We appreciate all the fans. We don't ever want to turn our back or say anything," Ellerbe said. "But again, the hardcore fans, that's the reason why our sport isn't where football and basketball is. It's because we stay in our own little box. It's like, you tell me what's wrong with these two guys fighting. If you don't want to watch it, don't buy it. It's as simple as that."
But Ellerbe's real jibes — and where the words could have been coming out of Dana White's mouth — were saved for the media.
"Mind your fucking business. You know? It's like do your job, cover the sport," Ellerbe said. "Obviously, you have to give your opinion, which we understand that. It's like, we don't see you saying nothing else about anybody else's events. We know what this is about. It's like, OK, one thing is for sure — you're not gonna stop this event. The fans demanded this event and that's what they're gonna get. We didn't ask for this."
Comments
comments