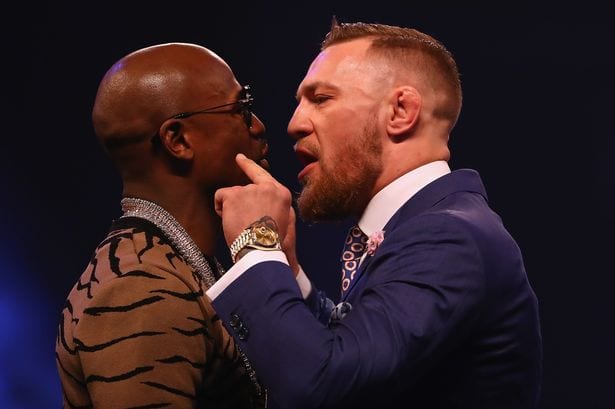 As he walked to the ring for his professional boxing debut in late August 2017, Conor McGregor was about to make history. 
His opponent, Floyd Mayweather, was undefeated in 49 professional bouts. McGregor, who had run roughshod over the UFC since debuting with the company four years prior, had ascended to the peak of combat sports. It was the most watched live boxing match in history, with a gate in which this was very much reflected in its numbers.
As for the contest itself, after a bright start where he won the first three rounds on a scorecard McGregor was ultimately defeated in the tenth round — a nod, perhaps, to Mayweather's pacing and experience.
However, the loss on his record still irks the Dubliner. Mayweather has fought once since that night in Las Vegas, an exhibition bout with Tenshin Nasukawa as part of a RIZIN card late last December, but he hasn't entertained the notion of a 'serious' bout since he left the ring on that balmy August night in Nevada.
But McGregor is keen for an encore and this time, he says, things would be dramatically different.
"I would like to rematch him under boxing rules, again," McGregor said during his sprawling interview with Tony Robbins recently. "And I believe I would win."
"Actually, there I go again with that fake humbleness … I KNOW I WOULD WIN!"
Here's the scorecard for #MayweatherMcGregor. Mayweather was up 87-83, 89-82, 89-81 before the finish. https://t.co/Uazx7xa1oX pic.twitter.com/tvFDxGsWSk

— MMA Junkie (@MMAjunkie) August 27, 2017
"When I went into the fight in the early rounds I was WHOOPING him in the early rounds. I went back to my corner after the 1st round and I said, 'This is easy!
After Dave Moretti gave the first three rounds rounds to McGregor, Mayweather began to adapt his style, ultimately landing on the uber-aggressive 'Mexican' style, as noted by the Irishman in the post-fight press conference.
"He never fought like that in his entire career, but he was forced to fight that way because he was getting beaten," McGregor explained. "The approach caught me off guard. I was not prepared for it, I was not used to it … and he walked me down and end up getting the stoppage."
Comments
comments