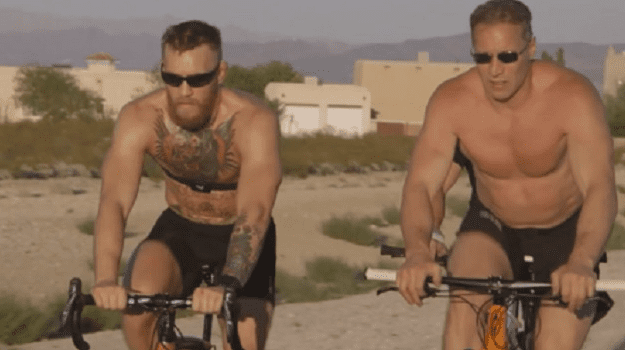 With Conor McGregor's switch to boxing from mixed martial arts the highest profile of such a transition, it has naturally come with many questions.
How will striking designed for 4-ounce gloves work in a sport that lives with 10-oz mitts? How will footwork intended to cope with leg kicks fare in a contest that only has punches? Does the ability to go for five, five minute rounds match the traditional twelve round affair?
According to Dr. Julian Dalby, the man behind McGregor's cardiovascular system TheMacFast, fans don't have to worry about that last one.
"We are just four weeks out now," Dalby said, speaking with Ciaran O Flynn of MMALatestNews. "Conor looks great, he is prepared in everything, he is prepared in all aspects of his training to the extreme. If the fight lasts 30 seconds Conor is ready, if the fight was to go on for one hour straight he is ready for that too, all aspects have been covered and we are ready for whatever Floyd brings to the table
"To be honest I don't think the duration is all that different. Conor will have no issues in adapting, he is more than prepared for 12 rounds. As I said, Conor is more than ready for whatever Floyd brings. Floyd is a one trick fighter, whereas  Conor is a complete fighter and is adaptable"
TheMacLifeFast program came about after McGregor's first contest with Nate Diaz at UFC 196. After the Irishman went for the kill early on, he found himself fading in round two, causing Diaz to gain the win. Afterwards, McGregor immediately addressed the flaws in his game, bringing in Dalby to help put together a system that would have him able to put forth huge effort without getting tired.
After that was proven effective in McGregor's twenty-five minute war against Diaz at UFC 202, the UFC lightweight champion has made the details available for his fans.
"Conor started the program around early 2016," Dalby said. "Since then we made a few adjustments to it, his progression has been unbelievable and the numbers prove that. The program works your aerobic and anaerobic systems and also combines short bursts, power and endurance. The problem with Conor was that he used over-train himself, so we now have a full schedule in place with proper rest days. With this program we plan on taking all of MMA to the next level"
Fans can purchase and read more about the program at www.mcgregorfast.com.
Comments
comments