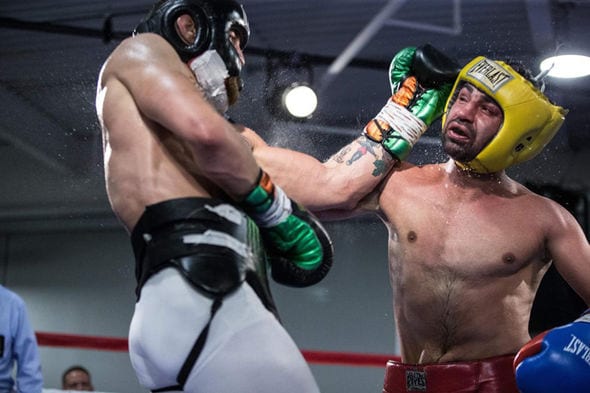 Any fans who want to see the famous sparring session between Conor McGregor and Paulie Malignaggi could finally have their chance.
So says McGregor coach John Kavanagh, who spoke to Joe Rogan on the JRE MMA Show earlier today. According to Kavanagh, there is a documentary in the works for the popular streaming service Netflix which will contain extended (if not all the) footage of the spar.
Although, Kavanagh says, labelling it a spar is somewhat disingenuous.
"They did a spar, he went away, it all broke because a picture got leaked and Paulie did an interview," Kavanagh said. "He was on the east coast working a show, so when he came back, he was coming back to have a fight. It was a weird night in the gym, because the Fertitta brothers came in, Dana came in, few celebrities come in. It was a fight … they did twelve hard rounds.
"I think there is something being released on Netflix soon based around that fight and it'll have all the rounds. We have the twelve rounds. As far as I'm aware, I just did an interview for it recently. I think it's a three part documentary that's going to be on Netflix soon. So people will get to make up their own minds about it."
While McGregor made some comments shortly after the affair, it's mostly been Malignaggi who has kept the discussion alive. Even now, over a year later, the boxer is still asked about it and still contests the existing narrative that he was beaten down by McGregor.
For Kavanagh, he's leaving it open to the fans and their own interpretation, but did say it makes for compelling viewing.
"It turned out to be a great contest," Kavanagh said. "And I'll say contest because it wasn't a spar, they were talking the whole time. They were talking the whole time, Paulie was talking to me, he was talking to the cameraman, he was almost better than Conor at it, it was great to watch. Everybody had a great night, and I think they both actually bizarrely enjoyed it. It's like Conor and Nate [Diaz]. It's Batman and The Joker, they both need each other. They hate each other, but they love each other."
Comments
comments