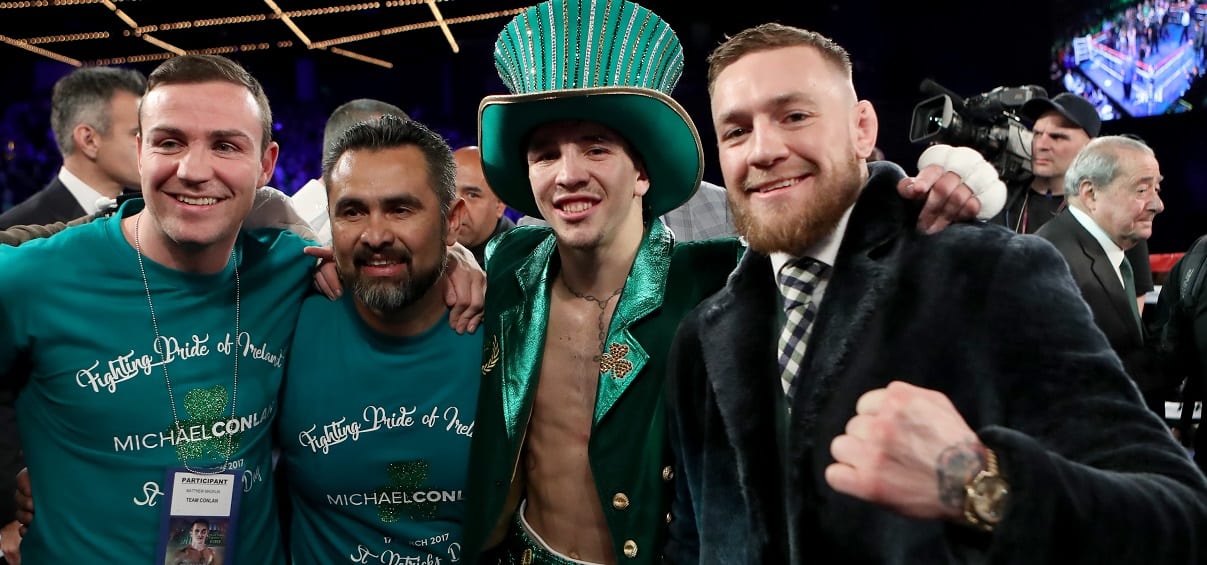 SBG Ireland head coach John Kavanagh has defended Michael Conlan from comments he received from respected combat sports journalist Kevin Iole following the Belfast man's professional boxing debut in Madison Square Garden last weekend.
Conlan stopped American fighter Tim Ibarra in the third round of their bout after taking some time in the opening two rounds to decipher his opponent's footwork and find his range, as Conor McGregor looked on from ringside. Conlan, the two-time Irish Olympian, was unhappy with his own performance which, while it wasn't exactly spectacular, it was a more than capable debut from one of Ireland's most talented amateur fighters in a generation.
As reported by Balls.ie's Gavan Casey Iole was critical of Conlan's performance following the bout, tweeting: "My honest take: OK performance, but certainly not like watching a @FloydMayweather debut when you knew he'd be a big star. Conlan had nothing coming back at him. Wouldn't expect him to fight a star in his debut, but I suggest tempering expectations. I think Conlan has a chance to be a good pro, and perhaps a very good pro. But I'll reserve judgment until I see more."
I wrote this in my column, but I think this is the biggest push in the US any Olympian has gotten since @OscarDeLaHoya in 1992

— Kevin Iole (@KevinI) March 18, 2017
Iole elaborated his thoughts on Conlan's debut with the above tweet, which Kavanagh then responded to with a public Facebook post in which he writes: "To me, it sounds like it's been implied that the hype behind michael, the push he's getting is from the outside and not something he himself grafted for, engineered, demanded, worked for."
Read Kavanagh's thoughts in full below.
Comments
comments