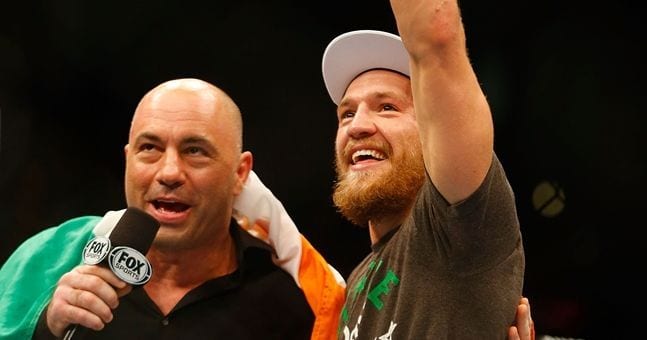 Conor McGregor's fanbase is about as loyal and rabid as any in sports. Whenever the UFC lightweight champion fights — be it in boxing or in mixed martial arts — the arenas of America are flooded with his fellow Irishmen, all supporting him from bell to bell.
Since his boxing contest with Floyd Mayweather in August, and Mayweather's subsequent retirement from active competition, McGregor is now inarguably the biggest combat sports athlete on the planet.
While the 155-pound champion has plenty of time left in the sport and active competition, UFC commentator Joe Rogan believes there have been few, if any, sports stars in history who can rival the support McGregor has.
"There's no one like him. It's weird," Rogan said on his podcast The Joe Rogan Experience. "There's a lot of great fighters right now, but there's no one that has the same enigmatic persona, this fucking quality that makes everybody want to be around him. No one on the planet.
"There's no one even a close second. … As far as like, popularity, he's the biggest combat sports athlete ever. Because who else could go from one sport to the next the way he did?"
Comments
comments