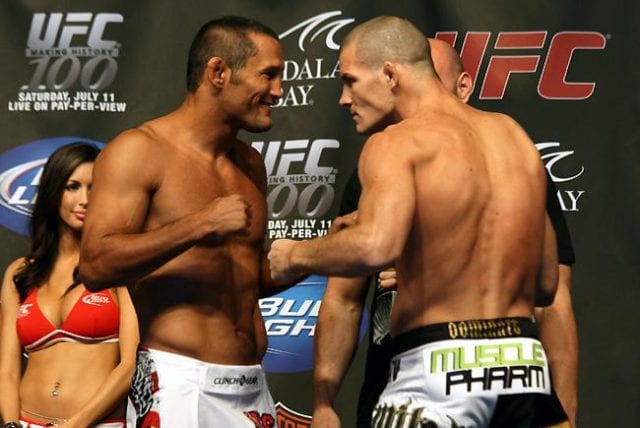 It's official. UFC 204. Manchester. Michael Bisping vs. Dan Henderson.
While the bout had essentially been public news for the last month, with Bisping announcing it on his own SiriusXM radio show, today it was the UFC releasing the information. And so on October 8, in his home town of Manchester (at the Manchester Arena), Bisping will make his first title defence against his long time rival Dan Henderson.
The two first faced off at UFC 100, where Henderson knocked Bisping unconscious with one of the most devastating KO's in the sports history. Following a huge right hand with a second leaping punch to a prone 'Count', the two have had a long standing dislike for one and other since then. While Henderson said the two would never rematch, Bisping having the belt seems to be enough incentive to make the second bout happen.
Henderson has also said that win or lose, this would be his last appearance in the Octagon, and at 45 years of age, will retire from the sport post-fight.
The fact the bout takes place in the UK does raise some interesting issues. Due to a desire to keep the event on a similar time to those usually hosted in Las Vegas, UFC 204 will begin at 11pm (GMT), with the main card starting at 3am and Bisping-Henderson supposedly starting around 5am.
It'll be interesting to see how the late night/early morning affects those in attendance.
With the announcement, the UFC also revealed six other bouts for the event. The biggest of those being Gegard Mousasi facing off against Vitor Belfort, and British Light Heavyweight Jimi Manuwa is set to fight former title contender Ovince St-Preux.
The event has interesting connotations.
With the UFC giving Bisping a title defence in his home town, there is a certain Irishman who has been asking for something similar for quite sometime. Perhaps UFC 204 is something of a tester to see if a late event in Europe can still bring in good pay-per-view money in the States. If it does, maybe we'll finally get to see the long spoke about McGregor fight in Dublin.
Comments
comments