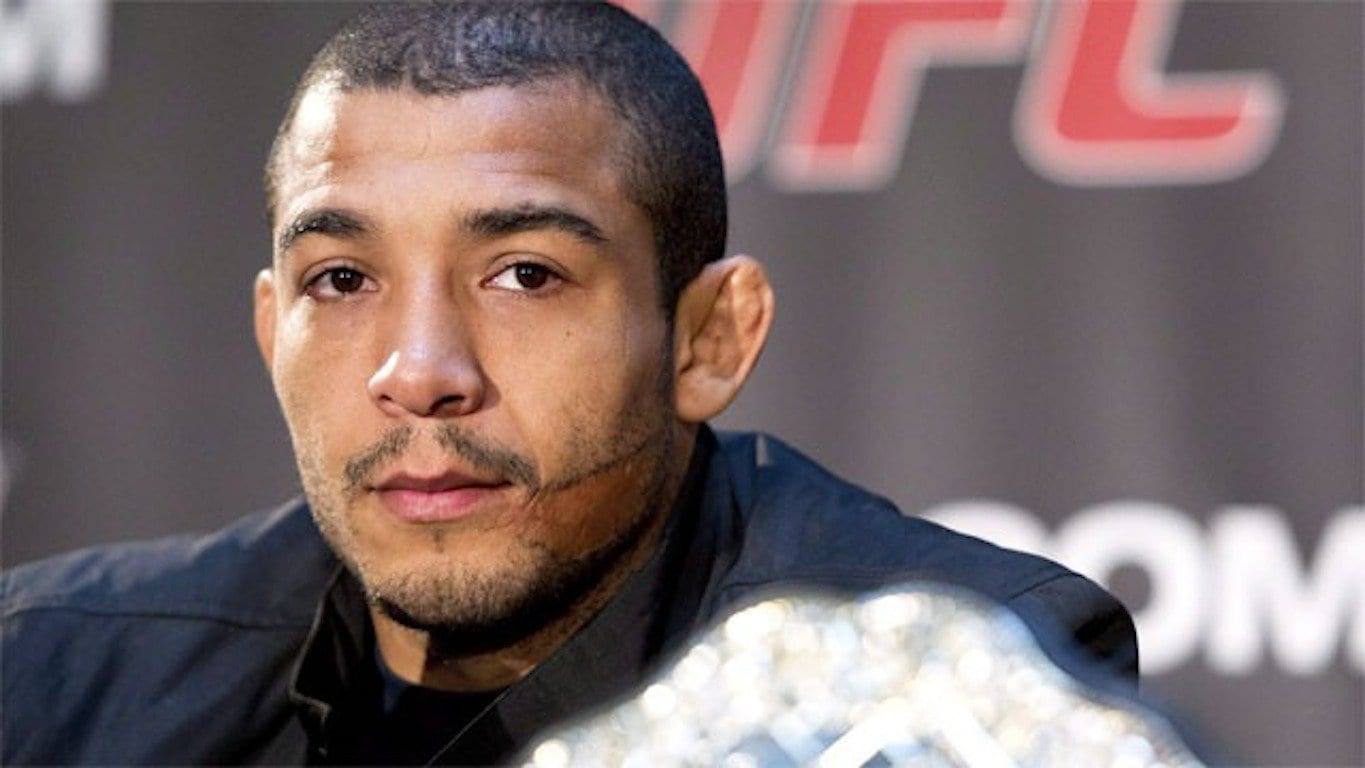 Not everyone is happy about the UFC 205 main event.
In an exclusive interview with Combate.com, which was published just moments after McGregor and Alvarez squared off at the UFC 205 press-conference, Jose Aldo has reportedly asked for his UFC contract to be terminated.
Aldo is quoted as stating he feels he could no longer trust UFC President Dana White's word, after McGregor has been permitted to hold on to the featherweight title while still attempting to win the lightweight belt. Feeling that McGregor will never be forced to vacate the belt, he has labelled the situation "a circus."
Currently, the official word from White is that (should he come away victorious) McGregor will drop one of the belts immediately following UFC 205 — something the Irishman vehemently denied would happen.
When asked at the UFC 205 press-conference today what his plan was if he won the lightweight strap, McGregor was (typically) emphatic in his response.
"I'm gonna wrap one on one shoulder, I'm gonna wrap one on the other shoulder," McGregor said. "And they're gonna need a fucking army to come take them belts off me."
When the McGregor-Alvarez fight was announced last night Aldo quickly posted, before deleting, a tweet directed squarely at the Irishman.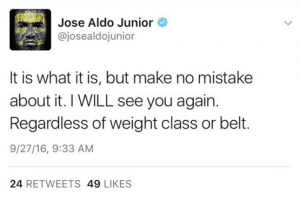 UPDATE:
After hearing the comments, White contacted Combate TV to say he'd speak to Aldo, but the Brazilian then called in to reaffirm his desires.
"Not even fight MMA, too. It has reached a limit now," Aldo told Revista Combate (translated via MMAFighting's Guilherme Cruz). "I talked to 'Dede' a long time ago and he convinced me to continue. I went to the Frankie Edgar fight and won. I fought to win for 'Dede'. I'm not angry or upset now, nothing. I never fought for money, I had a good career and legacy as featherweight champion.
"I don't want a fight. I want to leave as I came in. The UFC and WEC didn't give me anything. Everything I conquered was my merit and from my team. Nobody gave me anything. I conquered everything. And I gave them a lot more than they gave me back. I just want them to release me from my contract. I'm not a whore to sell myself."
Aldo's heart seems set away from the cage, and should things remain the same, it could be that we've seen the last of the featherweight legend.
"I don't even want to fight MMA," Aldo said. "I want to follow a career in another sport. That's what I want."
Comments
comments