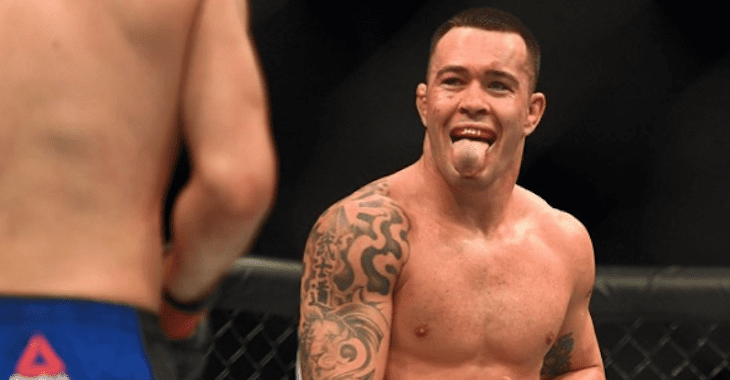 It seems fair to say that Colby Covington has borrowed a substantial slice of his schtick from the world of professional wrestling.
The UFC welterweight title contender cemented his status as a top contender at 170-pounds last weekend, besting Robbie Lawler through five frenetic rounds, while delivering what was essentially a pro wrestling 'heel' promo immediately after the win. His walk to the cage was even soundtracked by WWE Hall of Famer Kurt Angle's wrestling theme, a pantomime-like tune which compels fans to chant 'You Suck!' in its interludes.
Covington would like to go one step further.
"The energy and the electricity going through the arena when I walked out to that song was just amazing. And I got to give a big shout out to Kurt Angle, for giving me the blessing to be able to use that song, was so generous of him," Covington said to ESPN's Ariel Helwani via LowkickMMA.
"I'm very thankful to him. And also to Bobby Lashley for asking Kurt Angle if I could have the blessing to use his song. So big thank you to those guys, and Vince McMahon I'm going to see you soon man. I'm getting that WWE belt and I'm going to have this UFC belt. I'm going to be a two-sport World Champion."
To date, a handful of people have held titles in both the UFC and WWE with Ronda Rousey and Brock Lesnar among them, and Covington said that there is no reason why he can't follow suit.
"We haven't had that sit down talk yet, but I think they're gonna realize it's good for business," Covington said. "To be able to cross over and go back-and-forth. I mean, Brock Lesnar did it, so why can't I do it?
"That's going to be my new song," Covington said of his borrowed walk-out song. "Everybody knows I'm the most handyman in all of sports. I mean, it's just so fitting for me, you know? Just hearing the crowd yell, "You suck! You suck!" There's nothing more American than that. And what I represent, you know, being a Trump supporter, everybody hates us. Everybody hates a winner. So I'm going to give them what they want."
Comments
comments