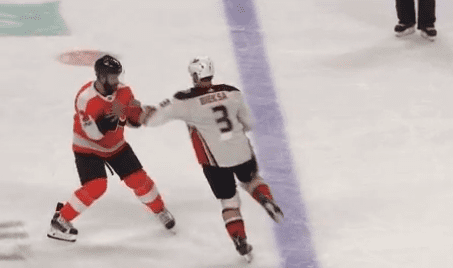 Over the last couple of years, mixed martial arts has broken through to the mainstream like never before.
With Conor McGregor and Ronda Rousey regularly breaking records over the course of last year, MMA has earned itself increased plaudits from celebrities and pundits alike. Now, we're even starting to see techniques used in the cage used in other athletic endeavours.
During an ice hockey game between the Anaheim Ducks and Philadelphia Flyers, two players Radko Gudas and Kevin Bieksa squared up (as ice hockey allows), only for Bieksa to nail a near picture perfect superman punch, sending Gudas crashing to the canvas ice.
One 👊🏻 is all that @kbieksa3 needed! pic.twitter.com/5DVETyOUfQ

— 🦆DucksNPucks 🏒 (@DucksNPucks) October 24, 2017
Uh, was that a Superman punch or….? pic.twitter.com/TxA0BbXAy3

— Pete Blackburn (@PeteBlackburn) October 24, 2017
Kevin Bieksa superman punch pic.twitter.com/r8PZs3jchF

— Pete Blackburn (@PeteBlackburn) October 24, 2017
No doubt Bieksa, who hails from Grimbsy, Canada, is looking forward to the return of Georges St-Pierre, the man many consider to be the master of the superman punch.
Comments
comments