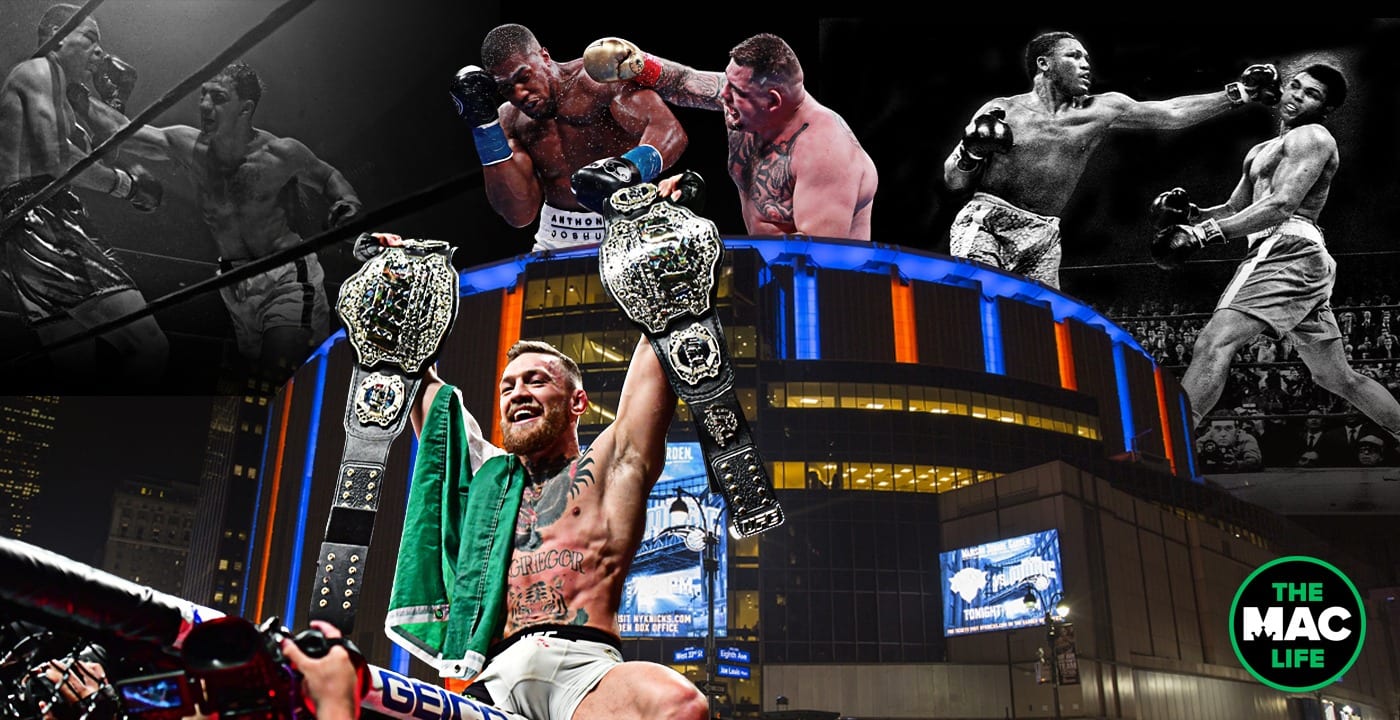 On November 2, the UFC returns to Madison Square Garden so Nate Diaz and Jorge Masvidal can tear it up in one of the biggest fights of this year.
As usual, Madison Square Garden itself plays a role in the discussion, with the building own a reputation and reverence afforded to no other in the world. To celebrate the return, here's a short list and look at some of the amazing nights seen at the World's Most Famous Arena.
Sugar Ray Robinson vs. Jake LaMotta – October 2, 1942
Attendance: 12,784 | Gate: $29,434
The first of six between the two boxing legends, and the first victory for Robinson came at Madison Square Garden. Few could have imagined the pair would go on such a series of contests, which famously sparked LaMotta's saying that he'd fought Sugar Ray so much, "it's a wonder I don't have diabetes."
As far as this clash goes, LaMotta did find early success, dropping Robinson in the first round, only for Robinson to rise from the canvas to win a comfortable judges decision in his middleweight debut.
Joe Louis vs. Rocky Marciano, – October 26, 1951
Attendance: 17,241 | Gate: $152,845
The "Brockton Blockbuster" meets the "Brown Bomber."
In truth, the story behind this epic is perhaps sadder than it is glorious. Louis was forced out of retirement after finding himself in debt to the taxman, after his promoter had failed to pay income tax on Joe's earnings from his period in the army. After failing to beat the new champion Ezzard Charles, Louis fought on in an attempt to get the rematch and the money he needed to get his finances sorted.
Enter Marciano.
Marciano was the contender, and a big name whom Louis could earn money with. Oddly enough, Marciano was uneasy about the fight, considering Louis a legend and a hero. Ten years younger, he knew the damage he could do to Louis, and indeed those fears came to pass. Marciano dismantled Louis en route to a TKO win in round 8.
He cried afterwards.
Muhammad Ali vs. Joe Frazier, "The Fight of the Century" – March 8, 1971
Attendance: 20,455 | Gate: $1.5 million
When fighters mention the epic clashes that have taken place at MSG, this is more than likely the one they're thinking of. One of the biggest nights in boxing to this day, it was the first time two undefeated heavyweights fought each other for the title, with Ali aiming to win back the belts he'd had taken from him for his refusal to to war in Vietnam.
Realistically, the entire contest had deeper meaning than just boxing. Ali represented one side of American politics, especially with his outspoken nature and anti-war stance, while Frazier countered with a consistently calm, collected and stoic demeanour.
The fight itself was an epic. Fifteen rounds of grueling back and forth that saw Ali dropped by Frazier's famous left hook in the final round. Frazier walked out the winner, vindicated in victory after Ali's harsh pre-fight words, and Ali left with his first loss as a professional.
Muhammad Ali vs. Joe Frazier II – January 28, 1974
Attendance: 20,748 | Gate: $1,052,688
It took 3 years, but Ali eventually got his chance at revenge, and he claimed it with a brilliant performance, using his speed to get ahead of Frazier early. Learning from the first contest, Ali no longer threw straight punches that whizzed past Frazier's bobs and weaves, and instead used uppercuts and hooks to catch his rival.
While there was no title on the line, the duo's famous hatred for each other still had plenty tuning in to watch the second of three.
Evander Holyfield vs. Lennox Lewis – March 13, 1999
Attendance: 21,284 | Gate: $13.5 million
Controversy in The Garden, with the only tie on our list.
Holyfield and Lewis went toe for toe for 12 rounds in a heavyweight title fight, and while there was no stoppage, as the final bell rang most observers felt Lewis had walked away the winner. Instead, only one judge gave Lewis the nod (116-113), while another gave Holyfield the victory (115-113) and the final one ruled it a tie at 115-115.
The audience were furious, and boos rained down on the ring, with notable figures in boxing decrying the judges decision.
Lewis went on to win the rematch.
Conor McGregor vs. Eddie Alvarez – November 12, 2016
Attendance: 20,427 | Gate: $17,700,000
Enter the UFC.
After years of a legal battle that kept the sport banned in the State of New York, mixed martial arts was finally legalised. With an opportunity to finally showcase what they can offer, the promotion went full boar.
The headlining act? A champion vs champion fight between Conor McGregor and Eddie Alvarez, as McGregor moved up to lightweight to try and be the first man to hold two titles at the same time in the UFC. His performance against Alvarez remains one of the finest ever seen in a title fight, as he finished the fight in the second after dropping one of MMA's toughest men four times.
As a supporting act, Tyron Woodley and Stephen Thompson put on an impressive showing with Woodley emerging the winner (albeit with some controversy), and Joanna Jedrzejczyk facing some adversity before beating Karolina Kowalkiewicz in the card's third title fight.
Anthony Joshua vs. Andy Ruiz – June 1, 2019
It was supposed to be Anthony Joshua's American showcase.
The heavyweight champion was scheduled to meet Jarrell Miller, only for 'Big Baby' to fail three drug tests for banned substances. As such, Joshua's team looked for a replacement, settling on Andy Ruiz Jr., who entered the contest as a huge underdog.
In the ring, Joshua appeared on track for the expected win, dropping Ruiz to the canvas… only to get clipped on his usual aggressive blitz and dropped himself. Following that, there was no mistake, Joshua was clearly compromised, and Ruiz continued to pour it on, dropping Joshua again and again before the referee stepped in.
The two meet in a rematch later this year, in what could be a do or die moment for Joshua's career.
Jorge Masvidal vs. Nate Diaz – November 2, 2019.
UFC 244. For the Baddest Motherfucker in the game title.
–
Comments
comments