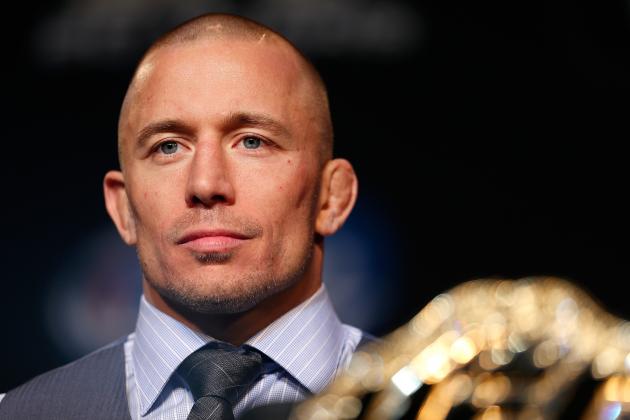 If Georges St-Pierre plans on returning to mixed martial arts, it won't be with the UFC.
The welterweight legend revealed today that after prolonged negotiations, he was no longer with the sports premier organisation, and instead was now a free agent.
"Right now, I'm a free agent, you heard it right," St-Pierre said on the MMA Hour, Monday. "I'm a free agent. My lawyers have terminated my contract with the UFC."
After providing the UFC with a deadline in regards to negotiation, St-Pierre and his team had decided that the two parties were no closer together, and made the decision to end discussions, stating the UFC were in breach of contract.
UFC President Dana White has repeatedly claimed over the past few weeks that he believe St-Pierre to have no real desire to return, and instead was merely keeping his name in the spotlight so as to appease sponsors.
Providing an alternate narrative, St-Pierre claimed the entire process has been a long one — made longer by the UFC sale in July — that started in February of this year. After Lorenzo Fertitta's leaving of the company following the sale, negotiations stalled under the new owners.
With the UFC returning to Canada in December for UFC 206, it had seemed like a logical decision to bring the former champion back into the fold. Instead, the new UFC owners informed one of the pound-for-pound greatest that they would need to spend a lot of money to advertise his return and 're-introduce' him to any new fans.
"For me its completely illogical that the fight didn't happen in Toronto," St-Pierre said. "We would have been winners on both sides, but now instead of that we're all losers, especially the fans. We're all losers."
While GSP plans on staying in shape, he admitted that his enthusiasm for fighting has waned with the stress of the discussions. Stating he would need to take some time away to relax and recover from a lung infection, St-Pierre also insinuated that fighting outside of the UFC wouldn't be a particularly strong motivator to get him back into the gym.
However, the fact remains that Georges St-Pierre is now by far the biggest name to ever reach free agency. He had been with the UFC since 2004.
Comments
comments