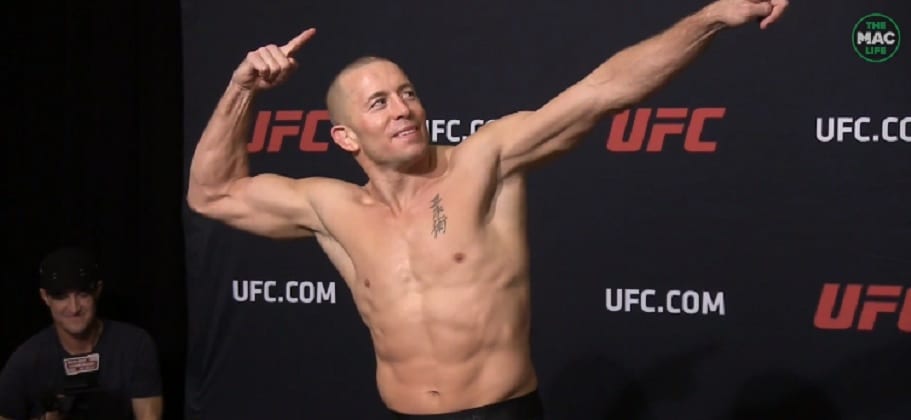 In recent times the line between the UFC and WWE has blurred not on a technical, sporting level but perhaps more-so in a way that has led to something of a revolving door between the two companies.
Brock Lesnar (sucessfully) and CM Punk (less so) have traded the squared circle for the Octagon, while Ronda Rousey and Matt Riddle are just two have gone in the opposite direction. The latest name linked with a move to Sports Entertainment is perhaps a big more surprising, however.
Georges St-Pierre, inarguably the best welterweight mixed martial artist in history, confirmed in a recent media appearance that Vince McMahon and co. have sounded him out about continuing his athletic career within their ring. However, contrary to Rousey (at least in her first year), GSP maintains that he might be interested in short-term contract but has little interest in being on the road 300 times per year.
EXCLUSIF | «GSP» fait tomber son masque en entrevue à TVA Sportshttps://t.co/v2WnZn3D3A pic.twitter.com/Fr1FBIvL8Y

— TVA Sports (@TVASports) May 27, 2019
"It's a form of competition and I do not know if I'm ready to go back into it," St-Pierre said to TVA Sports via translation, as originally reported by sescoops. "If I accept, it will be for a special event."
"I don't know if I'd want to sign a contract and do it every week and making it a living," he added. "They wanted to contact my agents, I gave them their number, but I don't want to switch to wrestling full time."
St-Pierre also further addressed the reasoning for his decision to formally retire from mixed martial arts, saying that his concern wasn't so much related to the physical toll that fighting can take but the mental one.
"My biggest fear was not the punches," he said. "Often, the damage to the head comes from how one trains. In my case, my biggest fear was the stress I was feeling. We know that it can cause cancer."
Comments
comments