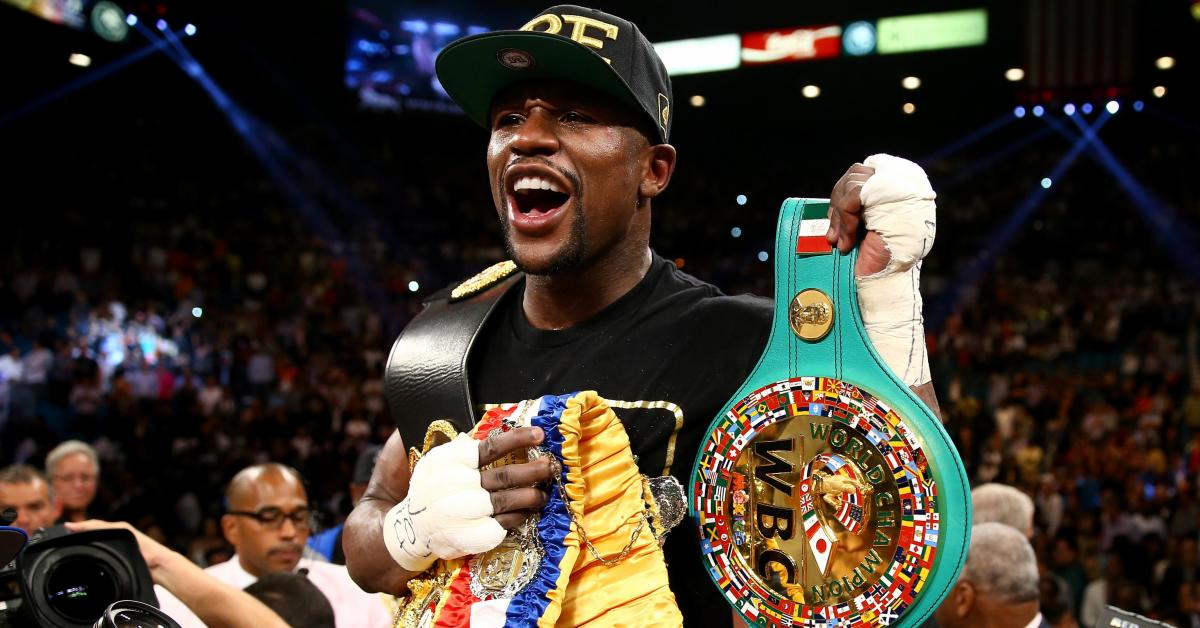 It's often been said, but it's worth repeating: Floyd Mayweather knows how to get people talking. The problem is people are starting to get bored of the conversation.
On Sunday night, Mayweather appeared at a press conference in Japan to announce he'd be fighting against Tenshin Nasukawa in RIZIN. The rules weren't agreed upon, the weight wasn't agreed upon, the gloves weren't agreed upon, but all the men on stage concurred — he'd definitely be fighting on New Year's Eve.
Then yesterday, after the articles had been written and the hot takes had been issued, Mayweather took it all back.
In a lengthy post on his Instagram (one probably not written by himself), Mayweather said he'd — just like all of us — had been conned. According to Floyd, he'd agreed to take part in an exhibition match to be held behind closed doors for the benefit of some very wealthy men who'd be paying him a very large pay packet.
"First and foremost, I want it to be clear that I, Floyd Mayweather, never agreed to an official bout with Tenshin Nasukawa. In fact (with all due respect) I have never heard of him until this recent trip to Japan. Ultimately, I was asked to participate in a 9 minute exhibition of 3 rounds with an opponent selected by the "Rizen Fighting Federation'," Floyd wrote.
"Once I arrived to the press conference, my team and I were completely derailed by the new direction this event was going and we should have put a stop to it immediately. I want to sincerely apologize to my fans for the very misleading information that was announced during this press conference and I can assure you that I too was completely blindsided by the arrangements that were being made without my consent nor approval."
So Mayweather showed up in Tokyo to cross some t's and dot some i's on an exhibition showcase bout, and got stuck on a stage and surprised by a fight announcement. Then, because Mayweather is a shy and agreeable man, he went along with proceedings to avoid embarrassing those in attendance.
Right.
So if Mayweather didn't know he was going to have a fight announced for the end of the year, why did he post a picture (since deleted) of himself wearing RIZIN gloves with the caption "December 31st 2018 #Tokyo" before the supposed ambushing press conference. If Mayweather was stunned by the fact he'd be headlining a huge event instead of trading punches on a yacht, why did he repeatedly note during the press conference that he wanted to perform for the Japanese people.
"This particular bout is a special bout as far as we're giving the people something they've never seen before. The world has never seen Mayweather compete live in Tokyo.  … My thing is just coming over here to display my talent and put on a show for the people. … It's always been a goal of mine to go outside the U.S. and go into another arena and display talent as a professional because I did it as an amateur."
As usual when it comes to Mayweather, you're left being told something is happening and then being delivered something far more underwhelming.
But really, at this point, perhaps it's our own fault. Why did we take this announcement more serious than any of the other announcements Mayweather's made over the past 12 months? Because he got on a stage this time? We were even told the details hadn't been fully resolved. Hell, it was only in September the 50-0 star 'announced' a rematch with Manny Pacquiao. It was only last month he told TMZ Sports in regards to a contest with Khabib Nurmagomedov: "We're fighting."
The RIZIN yes-I-am-oh-no-I'm-not is just the latest in a long line of Mayweather-isms. It's the latest example that the man wants the spotlight on him at all times, and he's prepared to do and say things to make that happen. It's also the most recent opportunity to remind ourselves that Mayweather's relationship with boxing is a complicated one.
By all rights, the man should be lauded as one the best ever. Barely touched in his career, and retiring with an undefeated record of 50-0 and a wallet overflowing with cash, Mayweather is the best example of someone who competed in the sport of boxing and won. Except he didn't just compete in the sport; he competed with it.
Mayweather has two legacies. The maestro pugilist, and the game player.
For every performance he had in the ring to show his brilliance, there's been an act or incident outside it to remind us of his shortcomings. Even if the RIZIN thing had been real, the fact Mayweather would go and take an exhibition fight has the feel of a premier league footballer going to play for a few years overseas in a sub-par league to make as much money as possible before retirement. You can't fault it, but it just feels a bit… hmm.
Fans like to see the greats be great. They want to see them tested. Mayweather never submitted to those demands. In fact, he scoffed and scorned at them. Even now, while he's supposed to be retired as a legend, when he could be doing a number of things to help build the sport he championed, he spends his days lobbing Instagram offenses at other promoters and fighters.
At 41-years old with a 50-0 record and no signs of damage, Mayweather should be strolling past us and laughing all the way to the bank. Instead, he's making deposits of his dignity for withdrawals of our attention.
Comments
comments