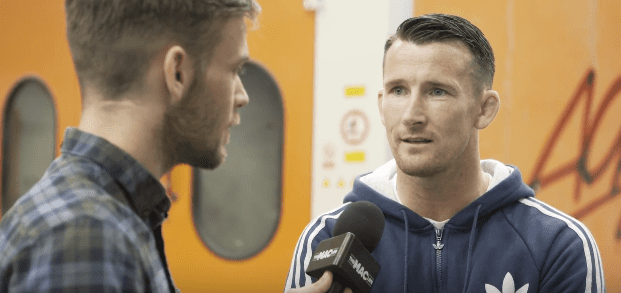 Out of all of Conor McGregor's fight camps, Owen Roddy has always held an invaluable position. Ahead of the August 26 boxing match with Floyd Mayweather though, Roddy finds himself immersed in a way unlike ever before.
An SBG stalwart from the early days, Roddy works as McGregor's striking coach, helping his fellow Irishman sharpen the punches and kicks that made him a multiple weight world champion.
While McGregor has been involved in historic competitions before, nothing feels quite like this. The first time an elite level mixed martial artist meets an elite level boxer, McGregor vs. Mayweather looks likely to be the biggest fight ever. For Roddy, a former fighter himself, to be able to help his teammate prepare for a contest is something of an honour.
"I learned a lot more when I stopped fighting than when I did fight," Roddy said. "I was an aggressive fighter, bit wild at times, but when I retired and I took a step back … it allowed me to refine a lot of the things that I was doing. To be a part of this, to help Conor come up with a game plan and come up with shots that we think are going to work is unbelievable.
"But at the end of the day, Conor's going to be the one to execute it, and for me there's no better person on Earth that can go in and execute a plan like what we're going to come up with and do it on the big stage."
The bout has, to put it mildly, tongues wagging.
McGregor's MMA prowess is undeniable, and as Mayweather has said himself, most of the Irishman's success has come by the way of his punching ability (particularly from that 'notorious' left hand). To see the two sports respective best collide, particularly on such a stage, it's no surprise the whole thing has grasped fan attention.
Despite all those eyes, Roddy doesn't believe we'll see McGregor (who has made his name performing in high pressure situations) falter in the slightest.
"[Calmness is] one of the amazing qualities that Conor has. [Conor]'s an unbelievable athlete, he has an unbelievable ability to work out his opponents and figure them out very quickly. He's got amazing speed and power, he's got crazy reflexes.. but his ability to be able to do that when the whole world is watching on the biggest stage. It's amazing. It's unbelievable.
"I think the margin for error is a lot less this time around. When it comes to MMA, [Conor] was always leaps and bounds ahead of everybody that he faced. The margin for error is a lot less [when] you're fighting an unbelievable boxer — one of the best to ever do it. So you got to be on your game, and we are on our game, Conor is on his game."
That attention and pressure will take a significant ratchet up next week, as McGregor and Mayweather embark on a media tour that spans multiple cities, starting with Los Angeles next Tuesday.
— TheMacLife (@Maclifeofficial) July 7, 2017
Fans will of course look back and remember McGregor's performances alongside Jose Aldo during their similar expedition ahead of UFC 189, and how by the end of the entire affair, the Brazilian looked stunned. No doubt because of that, people await with baited breath how it'll look when McGregor and Mayweather finally meet face to face.
Count Roddy as one of those excited to see how it all looks.
"Conor brings so much to the table — it consumes people," Roddy said. "When Conor fights, the pressure consumes everybody. Mayweather is good at dealing with pressure as well, he's from the big stage but he's never dealt with Ireland and Conor all on him. It's going to be interesting to see."
Comments
comments