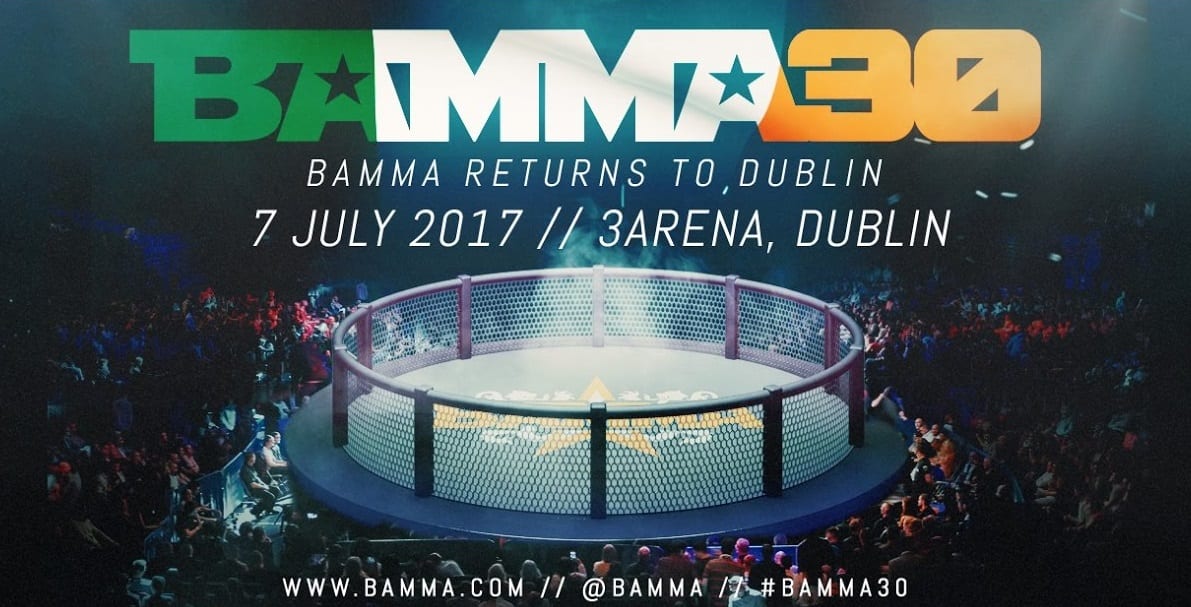 Dublin, Ireland — The British Association of Mixed Martial Arts has returned to Ireland's capital city. In the main event, BAMMA will crown a new bantamweight champion following Tom Duquesnoy's departure to the UFC when Alan Philpott takes on Shay Walsh in the featured bout of the evening.
Elsewhere on the card, two of Europe's top lightweight fighters will square off in the co-main event when Paul 'Redser' Redmond takes on Rob 'C4' Sinclair while several of Europe's top fighting prospects are also sprinkled throughout the card.
TheMacLife is cageside in the 3Arena, so keep up to date with all the results below.
BAMMA 30 — 3Arena, Dublin, Ireland – 7th July, 2017
Bantamweight — Alan Philpott vs. Shay Walsh – No Contest (Referee and Doctor called the bout after an illegal kick from Philpott)
Lightweight — Paul Redmond def. Rob Sinclair via Submission (knee bar) – Round 2
Middleweight — Fabian Edwards def. Aaron Kennedy via Submission (rear naked choke) – Round 2
Flyweight — Daniel Barez def. Daniel Barez via Decision (30-27 x 3) to win Lonsdale Flyweight Title
Lightweight — Richie Smullen draws Rhys McKee – Majority decision (28-28, 28-28, 29-28 Smullen)
Welterweight — Ion Pascu def. Henry Fadipe via Knockout – Round 1, 4.16
Welterweight — Richard Kiely def. Daniel Olejniczak via Knockout – Round 2, 3.55
Welterweight — Kiefer Crosbie def. Waldemir Cichy via TKO (elbows) – Round 1, 2.01
Light Heavyweight — Matt Clempner def. Ben Forsyth via Submission (adapted triangle choke) – Round 1
Bantamweight — Blaine O'Driscoll def. Harry Hardwick via Submission (rear naked choke) – Round 2, 4.45
Lightweight — Decky Dalton def. Mick Brennan via TKO (doctor stoppage) – Round 2, 1.15
Featherweight — Arran McGuire def. Dylan Logan via TKO (strikes) – Round 3, 4.20
Welterweight — Maciej Gierszewski def. Steve Owens via TKO (strikes) – Round 1, 4.20
Comments
comments