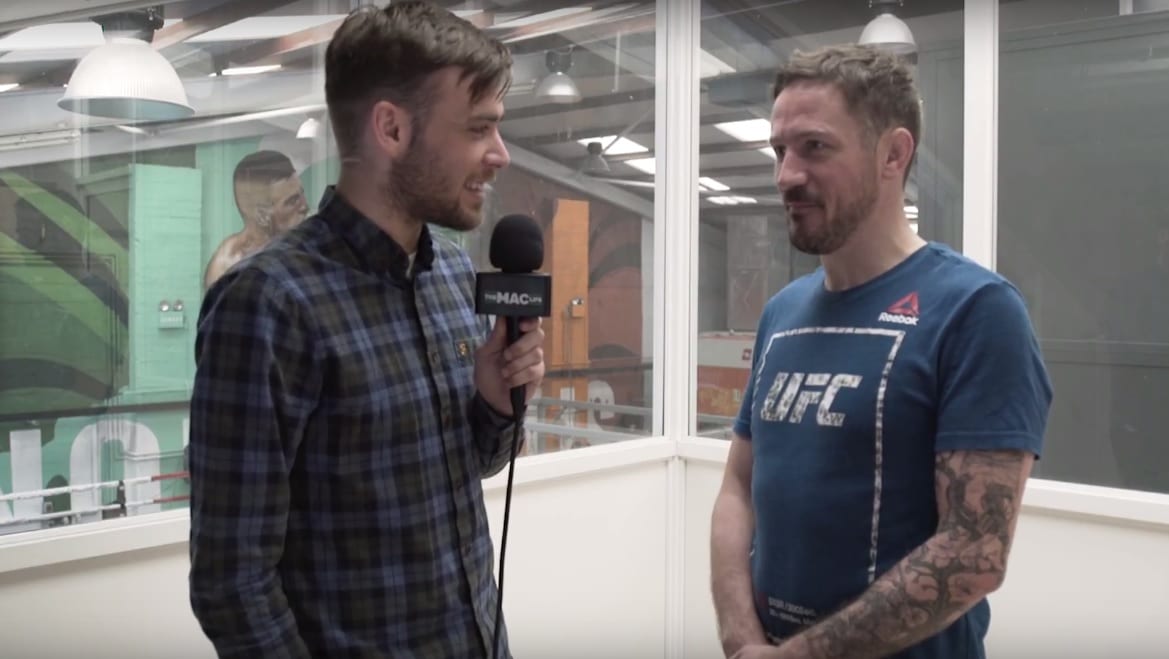 From starting off in a gym with barely enough room to hang a heavy bag to graduating to the state of the art facilities that currently fly the SBG Ireland flag, John Kavanagh has had a first-hand view of exactly what it takes to succeed at the highest level of the fight game.
When Conor McGregor steps into the boxing ring next month opposite a man who has yet to taste professional defeat, it will mark the latest high-water mark for a fighter under Kavanagh's charge. Under his guidance, McGregor has fought his way from sports halls in Ireland all the way to quite possibly the grandest stage in all of combat sports; his own stratospheric rise very much in sync with that of his coach.
Kavanagh, along with Owen Roddy and others, will be part of a team initially assembled more than a decade ago who are ascribed the duty of preparing McGregor to take on Mayweather next month. Speaking exclusively to TheMacLife.com, Kavanagh gave a glimpse into the preparations being undertaken to negotiate McGregor's first foray into the world of professional boxing.
"I get in trouble when I say this but I'm saying it's simpler," Kavanagh said when asked as to the differences in preparing for a boxing bout compared to that of a mixed martial arts one.
"There's just less skills involved, as opposed to getting ready for mixed martial arts. Boxing is an element. Now obviously for boxing in MMA we don't go into it as detailed as you do boxing for boxing's sake but it's still one of a myriad of skills required for MMA, so it's simpler. On the flip-side then, it's very interesting because you get to really delve deep into what it is that is boxing and I'd have to right off the bat say very clearly that it's Owen Roddy that is putting a game-plan together for this fight."
Roddy, once considered one of Europe's top professional MMA fighters, is considered by many to be among the top striking coaches in mixed martial arts and the man responsible for sharpening McGregor's already concussive striking game. The Queensberry rules under which the McGregor vs. Mayweather bout will be contested means that McGregor will be deprived of some elements of the arsenal which brought him to the summit of the mixed martial arts world.
No matter though, insists Kavanagh. In fact, it has only led to McGregor and Roddy being more creative as to the weapons they do have at their disposal.
"Owen and Conor have been with me since they were 16 or 17 coming up with plans and playing around with different martial arts and techniques and strategies and just watching the two of them bounce ideas off each other, whatever it is – 10 or 11 years later, it's a very proud moment.
"It's a learning experience. You don't get to do this too often, where you immerse yourself in one style. I read somewhere that people were saying that this would have a negative effect on Conor when he goes back to MMA; I think it's only going to have a positive effect.  When else could you shelve everything and focus on one art?
"Whatever about the other arts in MMA, Conor came from boxing and boxing was always in his heart. He was always showing me different boxing fights over the years, so now that he really gets to immerse himself in it and drag us all deep into that rabbit hole with him it is fascinating."
One of John Kavanagh's oft-repeated maxims governs his belief that in order to achieve the maximum returns from training, a fighter must "upgrade the software without damaging the hardware." With that said and with the added focus on pugilism in this particular camp, Kavanagh said it has led to increased specialisation in the training room.
"We're doing four times the amount of sparring for this camp than we would do for a regular MMA camp. That's a huge amount of extra rounds. Whatever other parts you get ready for a fight whether it's boxing or MMA, without doubt the most important part of that is sparring. That's the sport. So you can be doing movement drills and weight-lifting and running and all of these different things that go with it but number one should be sparring, as long as it's sensible.
"I really feel we've come along leaps and bounds in a very short time and we're only halfway through this camp. We have another mesocycle when get out to Vegas and another big leap forward."
With a brand new facility opened in Dublin (adorned with a mural of McGregor landing a thunderous left on Mayweather) and an array of specialist training at his disposal, Kavanagh feels that the success the methods employed by SBG over the years has been reinvested in the team — and he expects that to be evident to all on August 26th.
"Not having financial restraints is a joy. I have a sleep analysis [team] here today, that will check what his sleep is like. For a lot of guys trying to do training camps it's going around a job, there's the budget of food and travel and stuff — it's just nothing here. It's kind of like a playground, I just get to pick and choose what I want. We're standing here in a custom built gym that was put together in three days.
"When you're able to wave a magic wand and get stuff done it makes life a lot easier."
John Kavanagh has come a long way from the dingy gym in Dublin all those years ago.
Comments
comments