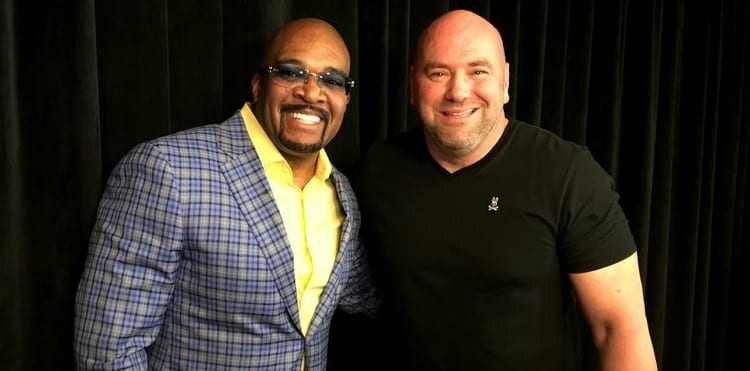 Yesterday, Golden Boy promoter Oscar De La Hoya gained multiple headlines (and stunned responses) after he claimed he had been training in secret in an attempt to get a fight with UFC lightweight champion Conor McGregor.
De La Hoya, 44, had appeared on Golden Boy Radio to suggest that he's been spending time in the gym since this Summer to regain his fitness and get back into the ring for a McGregor showdown.
"You know I'm competitive," De La Hoya said, speaking to Golden Boy Radio. "You know I still have it in me. I've been secretly training. Secretly training. I'm faster than ever, and stronger than ever. I know I could take out Conor McGregor in two rounds. I'll come back for that fight. Two rounds.
"Just one more. I'm calling him out. Two rounds. That's all I need. That's all I'm going to say … He's a big Irishman! He's the king. He's the king. Hey, let's get it straight: in the cage, he would freakin' destroy me. He would destroy me! No, [the fight would have to be] in the ring. I've been working out for the last five months."
It's safe to say there weren't an abundance of takers.
Ahead of McGregor's boxing debut against Mayweather in August, De La Hoya had made multiple statements publicly decrying the contest, proclaiming it a terrible thing for the sport of boxing and nothing more than a spectacle. For De La Hoya to suddenly fancy stepping through the ropes with McGregor is a sudden about turn.
Leonard Ellerbe, CEO of Mayweather promotions, can be counted amongst those who are unimpressed. Taking to social media, Ellerbe posted a brief statement which succinctly summed up his feelings towards De La Hoya.
"Went out of his way to hate on our fight," Ellerbe wrote. "Sent [letter] to fans, did interviews, and now he want to do what? Go sit down you are not Floyd, FOH!"
Went out of his way to hate on our fight, sent ltr to fans, did interviews and now he want to do what? Go sit down you are not Floyd, FOH!

— Leonard Ellerbe (@LEllerbe) November 14, 2017
—
Comments
comments