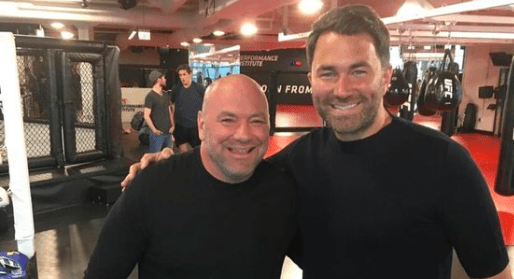 When Eddie Hearn and Dana White took pictures together at the UFC Performance Institute in Las Vegas, fans immediately wondered if the pair were looking at working together in the near future.
Instead, as detailed by Hearn himself at a media event yesterday, it was more of a courtesy call that turned into an opportunity to learn.
"I'm a massive Dana White fan," Hearn said. "I don't want to sound like a fanboy, but I have massive respect for what the UFC have done. In fact, I'll be honest, a lot of the things that we do are based around the success and the things that the UFC have done. So I went over and I introduced myself to him."
After their initial discussion, White then took Hearn across the street to the new building recently purchased by the UFC — a 130,000 square foot behemoth — and showed the boxing promoter some future plans.
"He had the courtesy to take me to his other building across the road where they're going to be doing live shows," Hearn said. "Listen, him and the UFC business is hugely motivational to what I do. … I realise that what we've created is no where near yet the level the UFC have created as a business. It's highly inspirational to me to be around people like that and a business like that, to show me that we have a long way to go. Just when you think you've cracked it — we're the biggest in the UK — you go and meet the UFC guys and you look at that business and think, 'Wow, we should be doing this, we should be doing that'.
"For me as a business guy and not a fighter, that's the kind of thing that motivates me. It puts fire in my belly. It was very kind of him to have the courtesy to show me that. I was really impressed by meeting him."
Naturally, with White's ambitions of getting into the boxing business, the pair did discuss White's plans — although Hearn wouldn't be drawn on if that meant working together or just general tradesman tips.
"I did tell him it's not like the UFC," Hearn said. "It's not a case of [telling fighters] fighting him in September. It doesn't work like that in boxing, and that'll be very frustrating to him."
–
Comments
comments