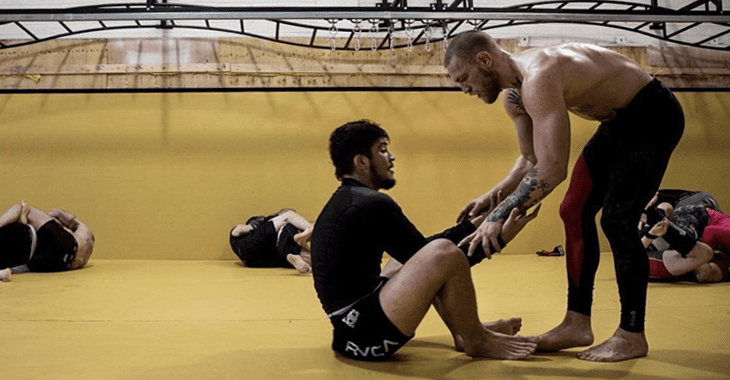 A rivalry between Dillon Danis and Jake Shields which began amidst a hail of bottles and coffee cups at the UFC 202 pre-fight press conference last August will finally see some resolution this weekend in the main event of Submission Underground 4.
Danis, a training partner of Conor McGregor, and Shields, who occupies a similar position in Nate Diaz's camp, ignited a proxy rivalry which has bubbled over in the intervening months since McGregor's UFC 202 victory and the ever-confident Danis doesn't think that he will run into any problems when he steps on to the mat opposite Shields on Sunday in Portland.
"I don't see anything special," Danis said of his opponent on Chael Sonnen's 'You're Welcome' podcast.  "He's over the hill. I feel like he's slow [and] unathletic. I'm going to play with him. I feel like I'm going to toy with him. I've trained with him before. He's a good wrestler but that's all he has honestly. I'm going to beat him everywhere."
Almost time May 14th on @FloGrappling 👊🏻 pic.twitter.com/oShnHLzspV

— Dillon Danis (@dillondanis) May 3, 2017
Danis, who recently signed a four-fight deal to make his professional MMA debut under the Bellator banner, is one of the biggest stars in the submission grappling world. A black belt under Marcelo Garcia, Danis' list of achievements is an extensive one with several IBJJF titles on his resumé.
His match against Shields will be Danis' second Submission Underground appearance of the year so far. Back in January, Danis earned a points victory over AJ Agazarm — a result he repeated when the two met once again recently.
"It was an easy match", Danis said of his second meeting with Agazarm. "It was like the first one but this time he couldn't run as much because it was in the gi. I beat him 10-0, which I knew was going to happen. He has nothing for me. I keep saying that, I don't feel anybody is on my level."
Danis has another opportunity to prove why he's one of the world's best grapplers on Sunday. You can watch the event live via FloGrappling.
Comments
comments