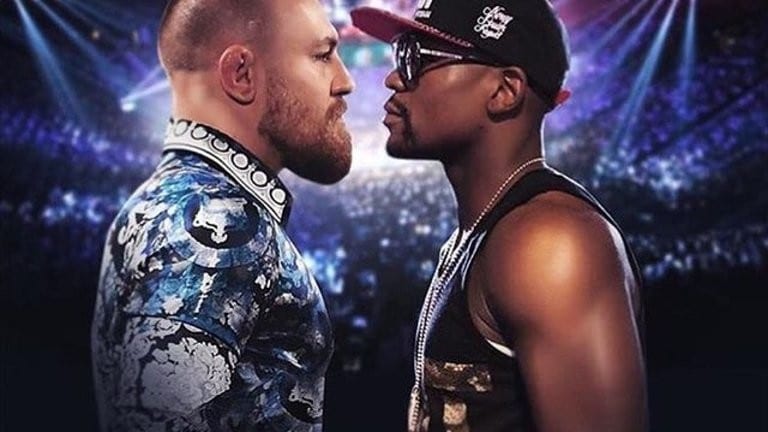 Conor McGregor and Floyd Mayweather will box each other on August 26. It's official. It's done. 'The Impossible Deal' got made, and two of the biggest stars (and personalities) in combat sports history will collide.
For a fight that has been highly anticipated, yesterday's confirmation still felt like it came out of nowhere.
Unlike Mayweather/Pacquiao — the only fight that feels a worthy comparison — McGregor and Mayweather have not been circling each other for years. This contest came together in essentially under a calendar year. In the aftermath of UFC 205 McGregor's star shined too bright, and the dollar signs too large for Mayweather to ignore.
And now it begins.
The promotion, which appears to be leaning towards becoming a world press tour, is likely to ignite the passion of fans both mainstream and casual. Should yesterday's announcements be anything to go by, McGregor can already consider himself ahead. While Mayweather posted a generic poster to his social media, McGregor wasted no time in beginning the mental warfare for which he became so famous.
Saying nothing more than "the fight is on" while including a picture of Mayweather Sr., McGregor's mind games look ready to be unleashed. The first time the two men share a stage will be telling, as will the first time they stand face-to-face.
Presently, the fight itself is being mostly predicted as looking either one of two ways: either Mayweather pulls another textbook performance out, and coasts to victory over twelve rounds, or McGregor clips him and renders the undefeated boxer unconscious.
Certainly, Mayweather's chances are good. His 49-0 record is self-explanatory, and his defensive dominance is unquestioned. Names like Hatton, Pacquiao and Canelo have all tried and failed to locate a chink in the armour. What chance, people say, could a mixed martial artist have?
But. It's been repeated so much it nears cliche, McGregor has been repeatedly dismissed, repeatedly proven the doubters wrong, and repeatedly raised the stakes to do it again.
With Floyd, it's the ultimate test. A fight on enemy turf, under enemy rules against the man no-one can touch. The ring, the referee, the judges — the deck has never been stacked so high.
…And yet.
McGregor has the touch of death in his left hand, and a touch of destiny everywhere else. That could be all he needs.
Comments
comments