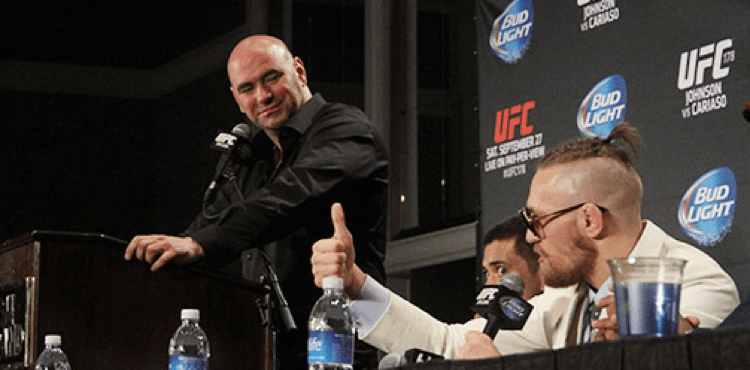 As Conor McGregor once famously said, "no one can take that left hand shot" — and it appears Dana White is in agreement with him.
On August 26th, McGregor will attempt to do what no boxer before him has done by defeating the 49-0 former multiple time, multiple weight world champion. UFC president Dana White, who has seen first hand McGregor's meteoric rise through the ranks at the Ultimate Fighting Championship, says that while the Irishman has a tough task in front of him, White suggests that McGregor's timing and accuracy will prove a sizeable obstacle for Mayweather.
"In my history with him, this guy has done everything he said he would do, including picking the round that he would do it in," White said in an interview with UFC.com.
"I don't see [McGregor] outpointing Floyd in a boxing match. I believe that in this fight, Floyd is going to fight the way he traditionally fights. He's the best defensive fighter ever. I think he's gonna stay on his toes and move around a lot and use the ring to try and stay away from McGregor. And I think McGregor goes straight after him and tries to rough him up and tries to knock him out."
Save for Max Holloway in a fight during which he badly injured his knee, McGregor has knocked down every fighter he has stood opposite from in the UFC but can he do it against the man considered by many boxing pundits as having an impregnable defense?
White thinks so.
"Floyd Mayweather has incredible defense and he's fast," he said. "But here's reality: Floyd Mayweather is 40 years old, Conor McGregor is a southpaw, and if there's any kink in that armor, it's when Floyd goes against southpaws. McGregor is 29 years old and he hits like a truck. When McGregor hits people, he hurts them, and when he hurts them, he finishes them. In a 12-round fight, is Conor ever gonna hit him once? I believe he'll hit him more than once and we'll see what happens when Floyd gets hit."
We'll find out in a little over two weeks.
Comments
comments