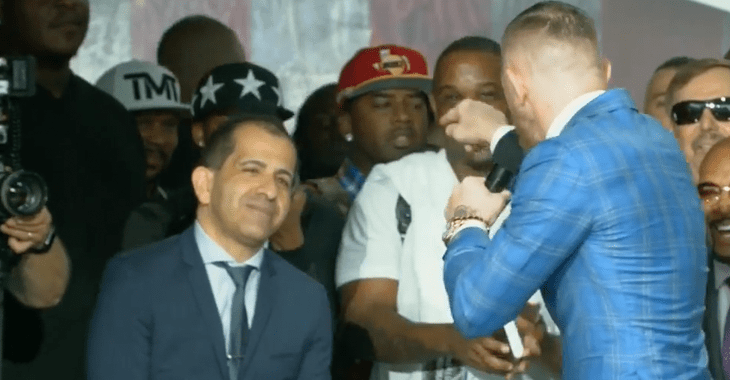 Just because Dana White is getting into the world of boxing, doesn't mean he's looking to make friends on his way in.
The UFC promoter has made it clear that a new project of 'Zuffa Boxing' is well underway, and that he'll aim to put on boxing matches in 2018. Yet despite numerous meetings with the big names in the world of pugilism, White is making it clear that he's not coming into the sport of boxing just to be a bit-player — he's there to make a statement.
In a long running interview with Yahoo Sport's Kevin Iole, White revealed his motivation for getting into a new area of sport, as well as why he thinks he can be a success.
"When we did the Mayweather fight, I watched, I took it all in — I just think the guys promoting boxing today are bad at it," White said. "I don't think they do a good job, and I think I can do better. Sounds arrogant, but it's the truth. I think I can do a better job than these guys do.
"Think about this — and I don't give a shit about Showtimes full of shit press release they put out — [McGregor – Mayweather is] the biggest fight ever in combat sports history. The thing did over 6.7 million buys, and if the service didn't drop, we would have gotten closer to 7 million. It was the biggest boxing event ever, without a boxer. There was only one boxer involved."
As White alluded to, there has been some dispute about the McGregor vs. Mayweather figures. While White himself has frequently touted the contest was the biggest match ever (and when counting international figures, it almost certainly was), Showtime themselves maintain that Mayweather vs. Pacquiao did bigger figures in North America.
White isn't convinced. And he isn't happy.
"The way that they handled that press release and what they did?" White said. "I didn't trust them before, and now I despise those fucking guys. The Showtime guys, I'll never work with them again. Ever."
Showtime and White's relationship throughout the build up to McGregor vs. Mayweather is believed to have been increasingly fractious. While the relationship started off well, events like McGregor's microphone seemingly being axed during the first press conference of a worldwide media tour, along with repeated back and forth over presentation of the product meant things became less amicable.
All in all, White seems unfazed. Rather — as is typical of the UFC president — having a rival to face off with gives him more gusto.
"I think we can do it a lot better," he said. "I think we can actually add something to the sport, I think we can raise the level of the sport of boxing. So I'm interested in doing it."
Oh and by the way, if you think White's crosshairs are restricted to Showtime, you've another thing coming.
"I know that there's guys at the top that make a lot of money, and then there's guys on the bottom that don't make anything," White said. "I could put together a system where all these mid-level guys are making good money. Good money, supporting their families, living in good homes, all that stuff. And the big guys make the big money. The money can be spread evenly, you got to go out and get a real TV deal — not the Bob Arum TV deal — a real TV deal, and build the same structure that we built the UFC.
"Bob Arum talks all this shit. Bob Arum is literally copying every fucking thing that we have done, and regurgitating everything that I have said over the last 17 years. … I'm not saying 'oh I'm going to come in and fix everything blah, blah, blah'.
"I'm not saying that, I'm saying I have ideas. I think I could do it better, and I'm going to give it a shot."
Comments
comments