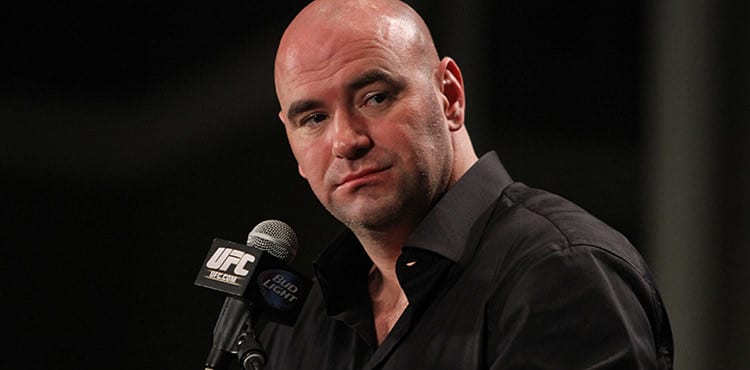 It's been a little while since UFC president Dana White announced his intentions of expanding from mixed martial arts into boxing, but supposedly he's not stopped planning the best way of getting things off the ground.
White's interest in ZUFFA boxing, as the enterprise is set to be called, appeared to be born out of the success of last August's Conor McGregor vs. Floyd Mayweather, one of the biggest sporting events in history. According to White himself, however, it wasn't necessarily the financial windfall of that bout that garnered his interest, but instead a belief he could bring something new to the table — although that's not to say it's been an easy nut to crack.
"I wouldn't say [McGregor/Mayweather] whet my appetite, I was just looking at boxing and I know we could do it better. I know we could do it better, I know we could do a better job than what's going on," White said, speaking with host Mario Lopez and ON with Mario.
"But it's so broken and so fragmented. It's just, how do you do it? I'm still poking around figuring out how do I do this? How do I get into this and make it work. First of all if I sign a couple of guys, which I could do, I could go out and sign a couple of big stars — who they gonna fight? In my world, I have 550 fighters under contract, so I can make any fight I want to make. You have to have a deep roster to make great fights. So I wouldn't have a deep roster right out the gates.
"I'm still poking around. You're gonna see, coming up here soon I'm going to make a real ballsy move here pretty soon. We'll see how it pans out."
As of yet, plans for ZUFFA boxing have been played pretty close to the chest, although some reports last month suggested White was interesting in doing a deal of some kind with both heavyweight champion Anthony Joshua and lightweight champion Mikey Garcia.
Just spoke with @danawhite and he said he's closing in on a deal with @MikeyGarcia He said plans for Zuffa Boxing are moving forward.

— Kevin Iole (@KevinI) May 3, 2018
It would seem, however, White has plans outside of signing one or two athletes, and instead has eyes on changing certain attitudes in the sport itself.
"I just think that when you get guys in boxing that become huge superstars, it's almost like they don't want to fight anymore," he said. "Whether it's not engaging in the ring, and trying to do just enough to win and just enough to not lose and you don't see that in the UFC, man. When these guys come to fight, they come to fight. We stack the card, and I think we put on the best live event in all of sports."
Comments
comments