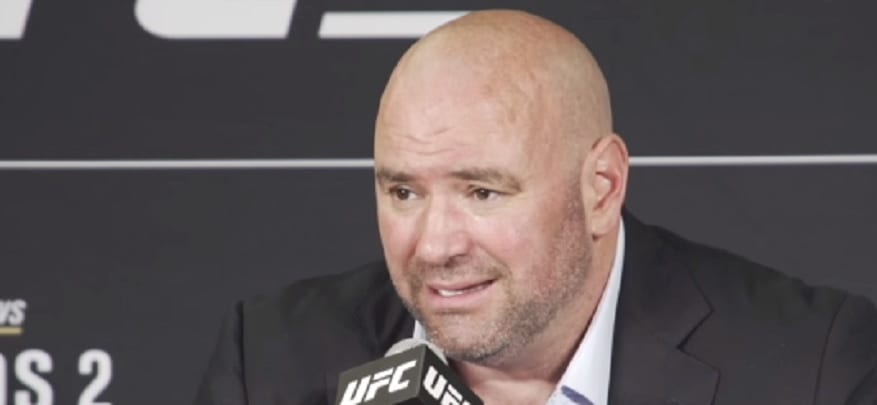 If there's only one thing UFC president Dana White is known for, it's finding problems with the media coverage of his company. Throughout his long career, White has gone back and forth with the outlets covering his brand, repeatedly finding themselves looking at the sport of MMA through different lenses and perspectives.
So when White was quoted earlier this year as saying 2017 was the best business year for the UFC in history, and the media responded with raised eyebrows and further questions, it's probably not surprising White fires back. Just one year after the UFC sold for the largest fee in sports history, White claims that — in spite of what many considered a down year in terms of the product — the UFC have never been more successful.
Speaking with ESPN, White answered his critics, and made some bold predictions for the year coming up.
"I think the [2016] sale has everything to do with it," White said. "Everybody is looking at that $4 billion sale and asking 'did they deliver?' Fuck yeah, we delivered. We deliver every single year. And still, every year, if you listen to the media, we're fucked.
"WME-IMG Endeavor bought us for $4 billion, and obviously they need to hit certain numbers for the banks, Right now, I'm spending another $1 million [at UFC's Las Vegas headquarters] on another wing I want. That's how bad of a year we're having. Ari Emanuel [CEO of Endeavor] wants to buy the building next door and build more shit. We're still growing."
While the revenue and pay-per-view figures for the UFC are traditionally kept under wraps, there is no secret that Conor McGregor vs. Floyd Mayweather was a huge part of any success the MMA promotion found last year, despite the fact the duo met in a boxing ring. In fact, White isn't just willing to accept that suggestion — he's willing to assert it.
"Who cares if it was a boxing match?" White said. "Do you think we knew Floyd Mayweather was going to fight Conor McGregor in 2017? Fuck no. We still had our year lined out, a budget and everything else. This is the fight business. You have no fucking idea what's going to happen. If that fight hadn't happened, Conor would have fought twice in the UFC and who knows who he would have fought or the fights it would have set up. This shit doesn't just happen. We create this shit."
With 2017 in the books, all eyes turn and look ahead.
One of the biggest stories for the UFC going forward is the negotiation of a new television deal — something that is believed to have been a huge factor in the companies $4.2 billion valuation two years ago. Currently on a deal with Fox, that contract is coming to an end at the end of this year, although the exclusive negotiation period with the channel is now over.
While some analysts believe that an increase in cable cutting means that the company is losing leverage as a unique live sports brand to bring to a channel, White says the deals are starting to be put together in areas some may not have expected.
"It's getting more interesting by the minute," White said of the negotiations. "ESPN buys Fox Sports' [regional sports networks], which the UFC is perfect for. And you look at Fox, they have a load of cash from the [sale to Disney]. You've got powerhouses like Amazon, Netflix and YouTube."
Another huge narrative in 2018 is White's sudden delving into boxing. While most are unsure of how that product is going to look, White is expectantly bold about his predictions for success in the new arena.
"Whoever an athlete is, I don't care who it is, I want to fly you to Las Vegas and we're going to meet," White said. "I'm going to walk you through this new facility, show you the gym, the trainers, all the amenities. Free supplements, physical therapy, we'll cook your food exactly how you like it three times per day. You'll get health insurance.
"Who can offer you a better deal than me in combat sports? Fuck boxing, MMA, whatever it is. Who can offer a better deal than me? The answer is nobody. This is what we do. Keep doubting us."
Comments
comments