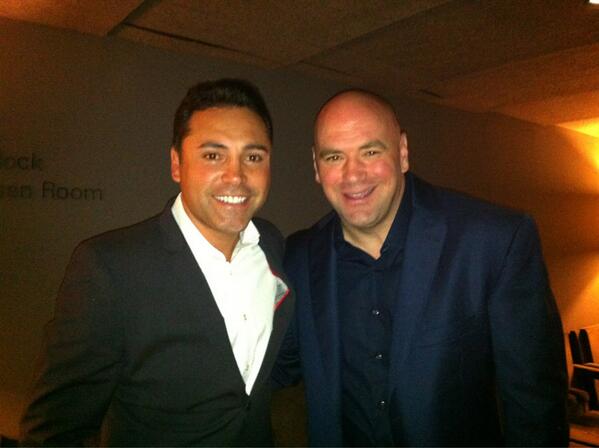 There was a time when Oscar De La Hoya and Dana White were fairly close. Certainly in comparison to White's numerous feuds with other boxing promoters, his and De La Hoya's relationship was all roses and banter.
As soon as Conor McGregor vs. Floyd Mayweather was announced, however, that all changed. De La Hoya went on a very public crusade against the match up, decrying it as an affront to boxing, before writing a public letter to fans pleading with them not to buy the pay-per-view.
Once the fight was finished, things got even stranger, when the former boxing star and current Golden Boy promoter suddenly revealed he'd been in training in the hope of meeting McGregor himself inside the ring. Needless to say, White isn't impressed.
"The nuttiest whack job on earth," White said, speaking on 'The Jim Rome Show' about De La Hoya. "This guy, I don't know if this guy is hitting the yayo and the booze again, or what his deal is, but this guy is on another planet. I have zero respect for this guy."
"Mayweather vs McGregor was a complete disrespect to the sport of boxing, it was disgusting, He was 'fuck you' and all this stuff on Twitter like a complete nut," White recounted. "But him versus Conor McGregor is a good idea.
"This guy is a complete nut."
Comments
comments