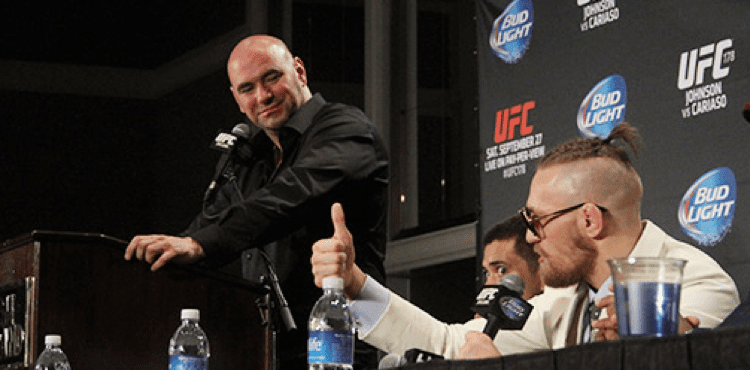 And slowly it creeps ever closer.
With it only being this morning that coach John Kavanagh stated he and Conor McGregor were training and behaving as if the mega-fight with Floyd Mayweather was already confirmed, a man previously thought to be one of the larger obstacles to the bout has begun to add his support.
Previously publicly against the idea, UFC president Dana White's tone on the boxing match has done a complete turn in recent times, with him now saying he does in fact believe the bout will take place.
While it was thought the UFC could have attempted to stand in McGregor's way of the fight, today the UFC boss stated that since the Irishman has always done right by the company, it would be wrong of them to not do the same in return.
"This kid steps up. He'll fight anybody, anywhere, anytime," White said, speaking on 'The Herd'. A lot of people say it, very few really mean it. Conor McGregor, I call him the unicorn. I've never dealt with a kid like this. So for him to have this kind of opportunity, to make this kind of money, this type of a fight that people are so interested in worldwide, I almost feel like I have to make it."
According to White, it's the nature of McGregor's proven fighting spirit that affected his decision, referring back to the numerous times the UFC lightweight champion has fought on regardless of late notice opponent changes.
"It's a fight that people do want to see. It's intriguing and obviously it's a fight that Conor wants because financially it's going to be massive for him," White said. "McGregor, he's a guy that I have a lot of respect for.
"This guy has stepped up at times when people were at his level would never step up. I've said this a million times and I'll say it again — I'm the guy standing in the living room, I'm the guy on the phone when these guys are looking down the barrel of a new opponent a week before the fight and Conor McGregor doesn't flinch."
Comments
comments