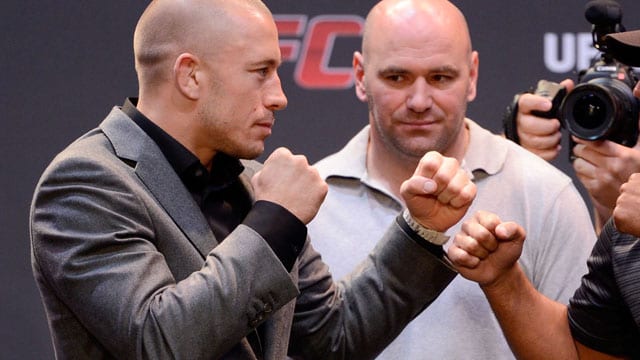 While fans around the world may be waited with baited breath about the return of former welterweight champion Georges, someone who isn't is UFC President Dana White.
Despite St-Pierre stating recently that he had begun USADA testing with the aim of a return, and that himself and the UFC are in discussions, White has long been publicly skeptical of seeing St-Pierre back in the Octagon.
On Fox Sport 1's "The Herd", White spoke about how he perceives St-Pierre as having a lack of drive.
"I don't care how big you are or how much money you make or how much money you bring into the company," White said. "If you don't want to fight anymore, you shouldn't fight anymore. This is a sport you're all in, you can't be wishy-washy.
"That's why when people talk about 'oh Georges St-Pierre's coming back, Georges St-Pierre's coming back'. Georges St-Pierre doesn't have that 'I want to be a world champion' attitude anymore. He doesn't have that drive and that desire he once had. And if you don't have that, yeah, no, you shouldn't fight."
White's comments come just days after the UFC announced they'd be returning to Toronto, Canada in December for UFC 206, where St-Pierre has previously shown to be a huge attraction. St-Pierre's four month USADA testing period will have expired by that point, meaning he would indeed be eligible for a return.
Comments
comments