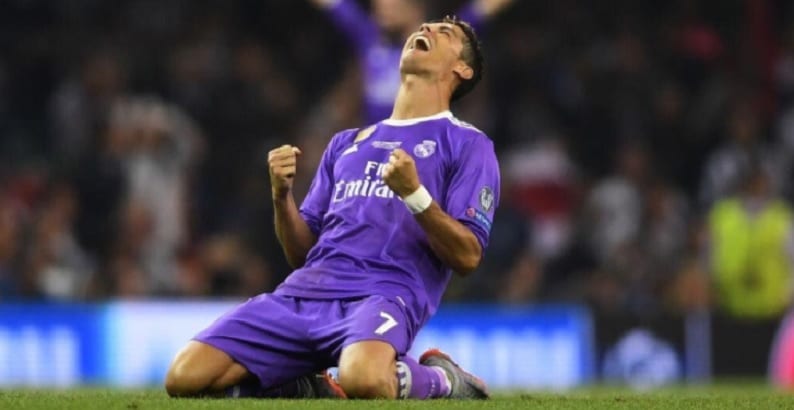 Cristiano Ronaldo scored twice as Real Madrid triumphed over 10-man Juventus in the Champions League final in Cardiff on Saturday, as the Spanish team claimed an historic second successive win of club football's most desired prize.
The Ronaldo double was joined by strikes from Casemiro and Marco Asensio as Los Blancos surged to a 4-1 win, with the only consolation for Juventus being Mario Mandzukic's stunning first half overhead kick which will go down in the record books as one of the great European Cup final goals in the competition's long history.
While the final score was ultimately emphatic, the evidence of the first half suggested that the Champions League trophy could be destined for Turin as Juventus carved out a series of early chances. Miralem Pjanic was unfortunate to see a buzzing low strike palmed away by Madrid's Costa Rican goalkeeper Keylor Navas, while Madrid alumnus Gonzalo Higuain and his Argentinian compatriot Paulo Dybala were looking lively.
As he so often does, Cristiano Ronaldo had a crucial say on the proceedings. The Portuguese opened the scoring after sweeping home a Dani Carvajal cross on 20 minutes and his second, a neat finish from a Luka Modric centre on 64 mins, was the 60oth that he has claimed for club and country throughout his career.
GOAL: 27 min. Incredible bicycle kick from Mario Mandzukic bring Juventus level. Utterly superb #UCL 🏆pic.twitter.com/DKtmx7EdrA

— Yahoo Sport UK (@YahooSportUK) June 3, 2017
But before all of that, Juventus threatened to asset themselves on the game with a stunning strike from Mario Mandzukic to level the game in the 27th minute. A long diagonal ball to the left from Italian centre half Leonardo Bonucci was expertly pinged into the centre by Alex Sandro. Gonzalo Higuian seized the ball (which hadn't touched grass since being close the halfway line) and prodded it to Mandzukic who controlled the ball with his chest before swiveling and sending a bicycle kick past Navas' grasp. It was a truly stunning strike worthy of any footballing occasion but ultimately not enough to claim victory.
Real Madrid began the second half eagerly and, with Juventus' old guard beginning to show signs of tiredness as the game wore on, Madrid soon began to take control. A deflected strike long range strike from Casemiro found its way inside Gigi Buffon's right corner and by the time Ronaldo added his second, the game appeared out of Juventus' grasp.
Greatest of all time? 600 goals and maybe the debate is over. #UCL 🏆pic.twitter.com/w8QvgoNb3f

— Yahoo Sport UK (@YahooSportUK) June 3, 2017
As Juventus huffed and puffed to make something happen, substitute Juan Cuadrado earned a second yellow card for a petulant stamp on Sergio Ramos and the final nail appeared at the death as Marco Asensio slid in a fourth after great work from Marcelo.
The back-to-back win of the Champions League, added to this year's La Liga title, means that Real Madrid coach Zinedine Zidane has begun his managerial career at the Bernabau in the best possible way — and with Ronaldo continuing to be in such imperious form, the deluge of trophies on the white side of Madrid is showing no signs of slowing down.
.
Comments
comments