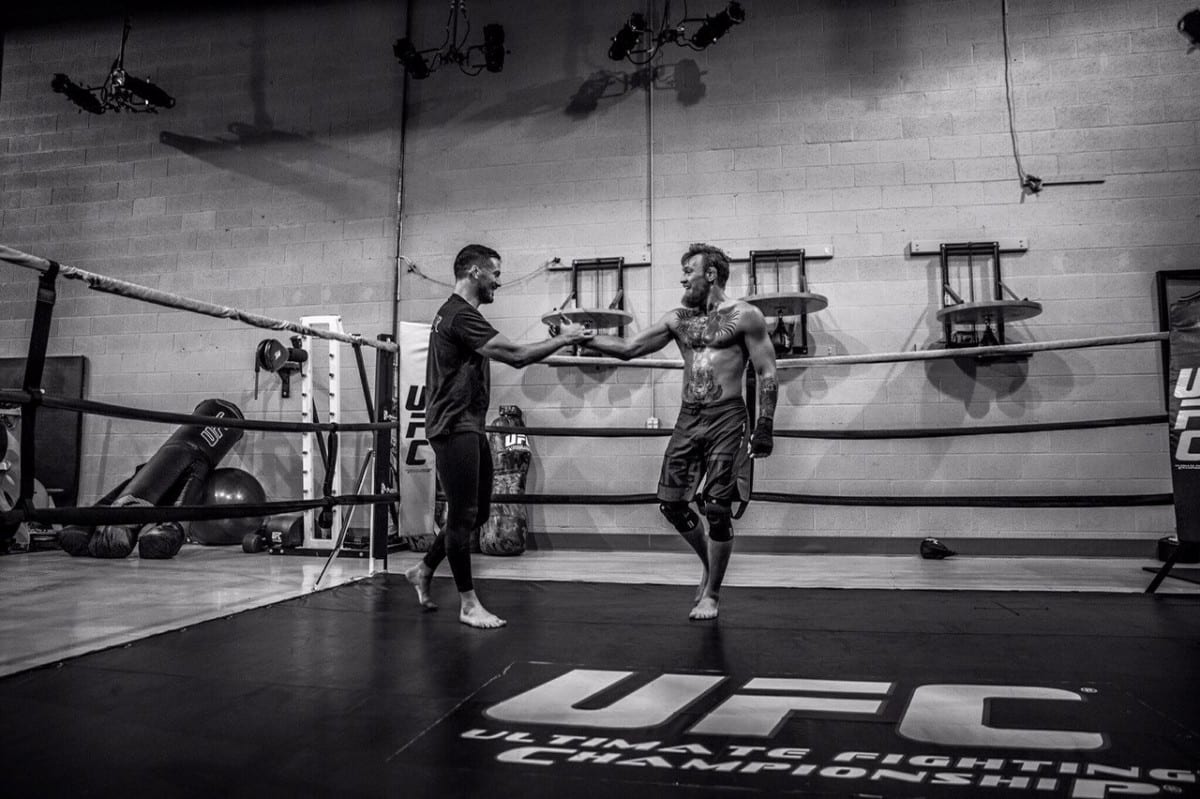 While John Kavanagh can appreciate the defensive boxing skills that have put Floyd Mayweather at the top of his craft, it's significantly harder for the Irish coach to respect the man behind them.
Mayweather's past is well documented, with various convictions for domestic violence and a litany of other controversies, all which make him a divisive figure. It's that past however, that Kavanagh looks at and means that unlike many of the other men McGregor has faced, he won't be wishing the best to his athlete's opponent.
"When I was in Australia in April, a lot was made of the fact that I highlighted Mayweather's history of domestic violence during an interview," Kavanagh wrote in his column for The42. "I'm not sure why people felt this was such a big deal, given that the man has already been convicted of beating up women. That's a fact. I have absolutely no time for any man with a track record of such behaviour.
"In addition to that, from what I've seen of his gym, it appears to be the type of atmosphere in which bullies thrive. As many people will know, being bullied is what originally led me to martial arts. I've sought to create an atmosphere in my gym where people who have been victims of bullying can feel safe.
"In Mayweather's gym, the better fighter bullies his training partner. But that's not how it should work. The better fighter should always be conscious of their duty to pass on their expertise and help their training partners to grow. It should never be a competition in the gym.
"To me, Mayweather is a lowlife. He's a guy I'd never want to have any contact with. Regardless of the outcome of this fight, I won't be shaking his hand."
Naturally, as the boxing bout between Floyd Mayweather and Conor McGregor creeps ever closer to being confirmed, Kavanagh has been asked to share his thoughts regarding the match up and how he foresees the bout going once both fighters are through the ropes.
While he knows that the oddsmakers are looking at boxer as the heavy favourite, Kavanagh believes McGregor has proven time and time again that he's capable of shocking the world.
"The experts may not be giving Conor much of a chance, but I wouldn't allow myself to be involved in preparing any fighter for a contest if I didn't think we could win," Kavanagh wrote. "I know a lot of people are dismissing it as merely a money-grab or a spectacle. If it purely was that, I'd wish Conor well but I wouldn't be part of it.
"I believe he can do it and Conor is 100% sure about that outcome. That's what gets me excited about this challenge. He was written off so many times in the UFC so being in this position is nothing new for us. We're in it to win it and we have a plan for how to do so. We believe we can bring a style that Mayweather hasn't encountered before."
Comments
comments